How to Start a Sunglasses Business
by Krystal Wascher; Updated September 26, 2017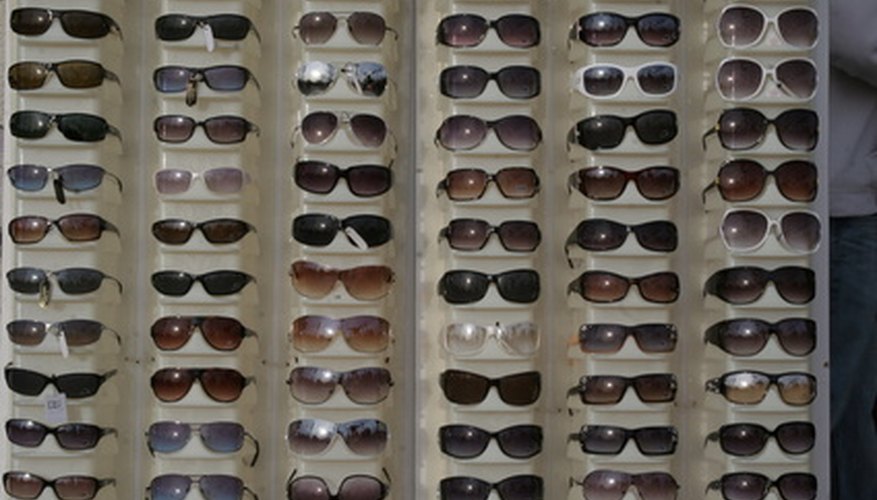 If you have an interest in fashion, starting a sunglasses business might be a great way to make a living. There are generally two basic business models that apply to the sunglasses industry: the wholesale distributor model and the retail model. A wholesale distributor acts as a middleman between a sunglasses manufacturer and a retail store. Its business goal is to purchase sunglasses in bulk from a manufacturer and sell them at a premium to a number of retailers. Conversely, under the retail model, you would purchase sunglasses from a distributor and sell them directly to the public.
Items you will need
Business plan

Agreements with a sunglasses manufacturer or distributor

Website and/or physical store front

Advertising and marketing
Start a Sunglasses Business
Create a business plan. Before you order your first case of sunglasses, you need to do research and form a solid plan. It is up to you whether you want to write out a formal business plan or not, but at the very least you should consider the following: How much start-up capital do you have to work with and where is it coming from? What will the name of your business be? What type of business model will you adopt (retailer vs. wholesaler)? Will you have a physical store front location or will you sell exclusively online? Do you need a formal office space in your home or in a retail location? How much product will you stock? How much do you expect to sell per month, year, and so on? How much of your budget will you allocate for advertising and marketing?
These are just a few of the considerations that you should ponder when creating your plan. The more preparations and planning that you perform early on, the greater the possibility will be that your business venture will be a success.
Set up your business location. Today, many sunglasses retailers are selling online. If you would like to run your sunglasses business this way, you will need to set a website to display and sell your sunglasses. If you are not technologically savvy, you should hire someone to set this up for you. If you decided to set up your shop in a physical store front, you will need purchase or rent commercial space. Before you do this, you should always consider location. Ideally, you want a location that will yield the greatest exposure to potential customers. Shopping malls and beach communities are ideal locations for a sunglasses business.
Research the types of sunglasses that are in style. The last thing that you want is a store filled with last season's eyewear--no one will buy it. While some people purchase sunglasses only because they need sun protection, a majority of customers want sunglasses that are fashionable and trendy. Keeping up with trends can be a daunting venture. The best way to accomplish this task is by looking at fashion magazines on a regular basis, attending fashion and trade shows, and watching what people are wearing.
Contact sunglasses distributors and manufacturers. You can't run your business without an inventory of sunglasses. Research prices and sales terms for several different companies. You can do this by making direct pricing inquiries to sunglasses manufacturers. B2B Manufactures has an online directory of sunglasses manufacturers and distributors. Once your research is complete, negotiate a sales contract with one or more distributors or manufacturers for the sunglasses styles that you want in your inventory.
Display your sunglasses. If your business operates exclusively online, you will need to have photographs taken of the sunglasses that you offer and uploaded to your website. Unless you have fashion and merchandise photography experience, you will probably want to hire a professional photographer for this purpose.
If your sunglasses business operates out of a physical store, you will need to set up your sunglasses display. There is no right or wrong way to do this. You may choose to purchase rotating sunglasses racks that are created specifically for the express purpose of displaying sunglasses or have sunglasses racks installed onto your shop's walls.
Advertise your sunglasses business. Customers will not purchase your sunglasses if they do not know that your business exists. If you are working with a larger budget, you may consider purchasing an ad in a well-known fashion magazine such as Vogue or Vanity Fair. For tight budgets, you will need to be creative. Some viable ideas would be starting a fashion blog, placing an ad in smaller local magazines, and creating your own promotional materials using your personal computer. If you are located in a high-visibility location such as a shopping mall or beach front, you may not need to advertise at all.
Cite this Article
Choose Citation Style
Wascher, Krystal. "How to Start a Sunglasses Business." Bizfluent, https://bizfluent.com/how-6297830-start-sunglasses-business.html. 26 September 2017.
Wascher, Krystal. (2017, September 26). How to Start a Sunglasses Business. Bizfluent. Retrieved from https://bizfluent.com/how-6297830-start-sunglasses-business.html
Wascher, Krystal. "How to Start a Sunglasses Business" last modified September 26, 2017. https://bizfluent.com/how-6297830-start-sunglasses-business.html
Note: Depending on which text editor you're pasting into, you might have to add the italics to the site name.