How to Start My Own Jeans Company
by Mercedes Valladares; Updated September 26, 2017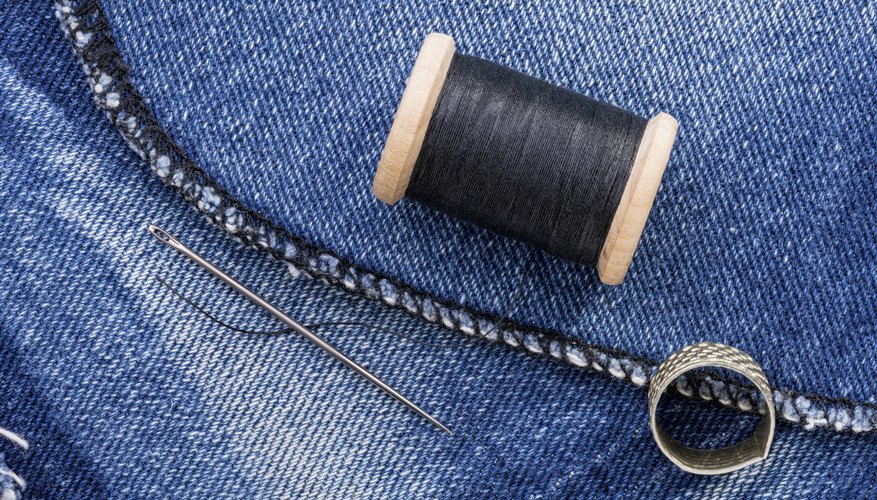 The denim revolution has taken over retail floor space and branched out into its own departments. Although starting a jean company can be somewhat intimidating with the immense competition, by being true to your jean interpretation, style and innovative silhouettes, you will be able to rocket your company to the forefront of fashion by following specific guidelines catering to the denim and jean industry.
Items you will need
Denim (fabric type, content, weight and stonewash will depend on your collection)
Jean trim (will depend on your collection; examples include thread, shank buttons, embroideries, rhinestones)
Developing Your Denim Collection
Step 1
Sketch your jean collection. Once your business entity is filed and operational, you will need your collection drafted in order to purchase fabric, primarily denim. Your denim silhouettes will revolve around specific categories such as stylized jean cuts, fit and details.
Step 2
Choose your jean's stylized cut. These cuts have specific terms used within the jean industry. Your patterns will revolve around the cut described. For example, the legging: Skinny jean, skinny boot and regular boot cut, relaxed fit, straight leg, flare leg, the boyfriend and cropped jean are all separate paper pattern markers. These markers are used several times throughout the season. Designers will change embellishments, pocket treatment and often times seam work, but the silhouette reference remains the same.
Step 3
Draft your fit and jean details. The details include thread, trim such as beltloops, shanks, rivets and zippers, and embellishments as well as pocket type. Fit details refer to a mid-rise, low-rise or an at-the-waist finish. The fit impacts your pocket placement. For example, your low-rise jean will often have front-shaped pockets with a watch pocket insert and rivet. An at the waist fit has room for a full five-pocket jean or decorative back pockets with pocket flaps.
Step 4
Choose your denim's fabric texture, such as cross hatch as well as fabric weight. This is the crux of your jean business. Keep in mind that your denim weight and content will directly impact your style and silhouette choices. For instance, a stretch denim will have different fabric properties from a 100 percent cotton denim. The weight also impacts the styling. For example, a 6 oz. denim will relate best with denim tops and skirts, where as an 8-12 oz. denim will relate best to denim bottoms and jackets. If the weight is increased to 13- to 14 oz., it is referred to as bull denim.
Step 5
Choose your denim washes such as light, medium and dark stonewash. Research and test different washes such as acid or enzyme washes. Once you develop an interesting wash and finish, you will be able to include this in your marketing and sales campaign. You can also opt to carry black and grey denim.
Step 6
Draft your technical sketch packages in order for your pattern-maker to make patterns. These packages include a front and back view of your jean, which is referred to as the black and white sketch within the industry. Separate sheets will include specifications such as waist width, belt-loop length, width and position, enlargements on pocket and pocket flap details, as well as placement, special add-ons such as embellishments, trims, a fabric swatch, wash finishes and thread types. These packages are important to have your samples made correctly.
Launching Your Jean Company
Step 1
Merchandise your jean collection. Once your samples are complete, your sales force and merchandiser will have input into your company's merchandising. For example, certain washes can be grouped and presented to retail buyers separately and a category of novelty embellishments or silhouette cuts can be grouped as well. This is important for your pricing structure, sales presentation and launching your collection.
Step 2
Draft your pricing structure and sales plan. You will refer back to your merchandising plan in order to determine specific, competitive pricing. For example, you can group your basic five-pocket jeans in an opening price point structure. This term is used in the competitive market and reflects low pricing to entice consumers to purchase your brand. You will have to research your competition as well as know what your target market will pay for your particular jean silhouette. Since you will be competing with branded denim collections, your company can create a logo to develop a brand for consumer recognition.
Step 3
Launch your collection. Use pertinent silhouette, denim texture and wash details to include in your marketing campaign. Select a specific model who represents the essence of your company's style. Send press packages to the editors at fashion magazines. Your sales force can contact retailers with interest in adding new vendors as well as denim departments that cater to new designers and brands.
Your jean company is ready to compete.
References
"The Fashion Designer's Survival Guide, Revised and Expanded Edition: Start and Run Your Own Fashion Business"; Mary Gehlhar and Diane Von Furstenberg; 2008
Photo Credits
Maxal Tamor/iStock/Getty Images
Cite this Article
Choose Citation Style
Valladares, Mercedes. "How to Start My Own Jeans Company." Bizfluent, https://bizfluent.com/how-6141045-start-own-jean-company.html. 26 September 2017.
Valladares, Mercedes. (2017, September 26). How to Start My Own Jeans Company. Bizfluent. Retrieved from https://bizfluent.com/how-6141045-start-own-jean-company.html
Valladares, Mercedes. "How to Start My Own Jeans Company" last modified September 26, 2017. https://bizfluent.com/how-6141045-start-own-jean-company.html
Note: Depending on which text editor you're pasting into, you might have to add the italics to the site name.