How to Make a Gift Voucher for a Beauty Salon
by W. Nicole Barclay; Updated September 26, 2017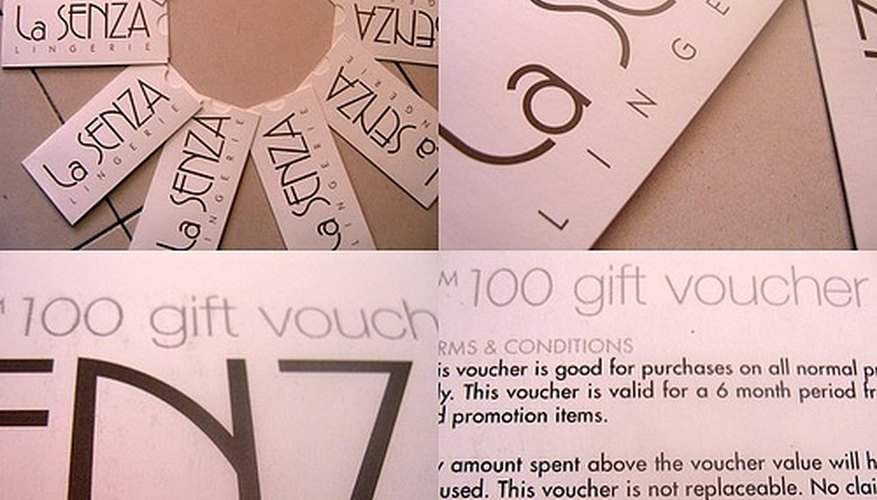 A gift voucher is a great way to invite new customers to join your salon, and it gives you the opportunity to secure their regular business. The vouchers should be a good reflection of your beauty salon and include custom features.
Items you will need
Printer
Printer paper
Scissors
Crafty extras
Step 1
Load a template for gift certificates or vouchers into your word processor. These will have a preset size and outline but enable you to customize. Download a template, if you are missing one, from the website of your word processor company.
Step 2
Choose popular services that you can afford to offer free or at a discount. Consider nail services, which are relatively inexpensive, or a free hair trim. Decide on a financial amount for the vouchers or take them in exchange for specific services. Mention whether you will limit the coupons to one per visit. Write a small description of the services you will be giving away, to entice your customers to use them.
Step 3
Use clip art. Replace any preset images on the template with your company logo and other clip art related to your beauty salon. Make sure your company name appears in bold letters, as well as the value of the gift voucher. Be sure to state the address of your beauty salon clearly.
Step 4
Write any conditions, applicable beauty services or relevant dates of valid use in plain sight. Give each voucher an individual serial number so you can keep track of their use and sale, as well as avoid fraud.
Step 5
Print your gift vouchers, remembering to turn over the paper for double-sided printing, if applicable. Try to incorporate colors in your paper choice if your text is black or grayscale.
Step 6
Consider laminating each voucher to make them more professional, or use a hole punch to make a hole in a top corner and attach a small ribbon. Tie the ribbon through the hole and into a bow. Use glue and gemstones, or other accessories, to personalize each voucher.
References
Photo Credits
http://www.flickr.com/photos/williamnyk/2659343675/