How to Work at Home Making Jewelry
by Mitchell Holt; Updated September 26, 2017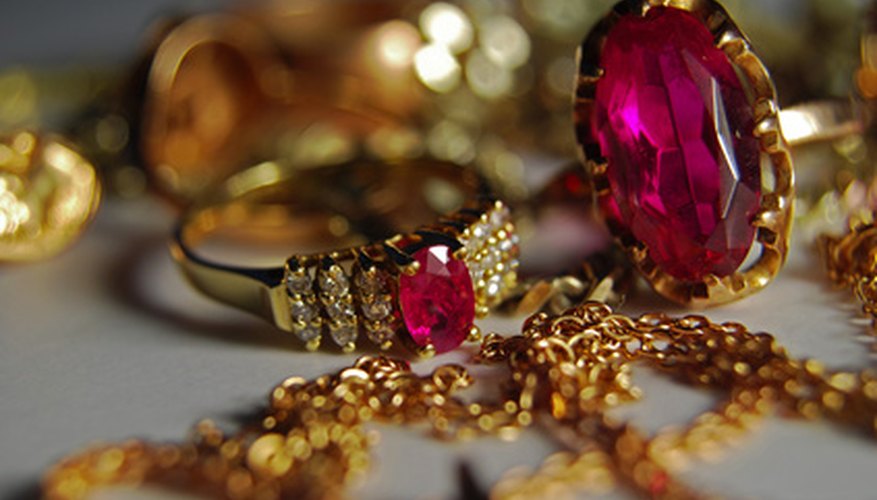 Maybe you've sold a few pieces of jewelry and could see it becoming your occupation, or maybe you love to make jewelry but watch the kids or can't work a normal job for whatever reason. Advancing technology has made starting a home jewelry business more of a possibility for the overnight entrepreneur. Websites, online marketplaces and shopping cart solutions have added a whole new facet to selling products from home. Now the options for where to sell your jewelry are many and all it takes is some planning, licenses, marketing and, of course, your skill of jewelry making.
Step 1
Choose a business name. Your name should be catchy, one or two words, and capture part of your personality. Your name should be easy to illustrate in a logo and look good on business card and other marketing materials.
Step 2
Register the business name with your local State Secretary's Office and make sure it's not already taken by someone else. Most Secretary of State websites have the information you need (See Resources) to file as a business in your state.
Step 3
Familiarize yourself with the Internal Revenue Service (IRS) small business and self-employed filing policies. Many self-employed contractors and small business owners have to pay their taxes quarterly, others don't. Find out what is your best option as a small business owner, and consult a CPA frequently on these matters. He will save you time and money, possibly thousands of dollars.
Step 4
Design a logo that is aesthetically pleasing and fits your business name. Keep high resolution files of your logo on a hard drive in case a computer crashes.
Step 5
Set up an online store, whether through a marketplace (See Resources) or your own website. Many online marketplaces allow you to upload your business logo and personalize your section of the site. Part of this task is having professionally taken, detailed photographs so people can see exactly what they're buying.
Step 6
Arrange to sell your items consignment at stores in your town. Most boutiques are willing to do this if they don't have an exclusive contract with one company. You'll have to mark the price up a bit when selling consignment because the store will take a percentage. From time to time, call the stores and ask if they need to restock your jewelry.
Step 7
Perform some simple marketing techniques--start by emailing your family and friends to tell them about your business, online marketplace and consignment locations, asking them to forward the email to people in their address books. If you're in a small town, post fliers around town and tell people you see about your business endeavor. Give them a business card if you can get some printed. If you have the funding, purchase small ads in newspapers and free dailies or weeklies. These tasks are relatively easy and can get the word about your business out pretty quick.
Step 8
Clear your schedule for several hours per day to make jewelry, and hopefully, you'll get so busy you'll have to hire someone else.