How to Print Shipping Labels With USPS
by Contributor; Updated September 26, 2017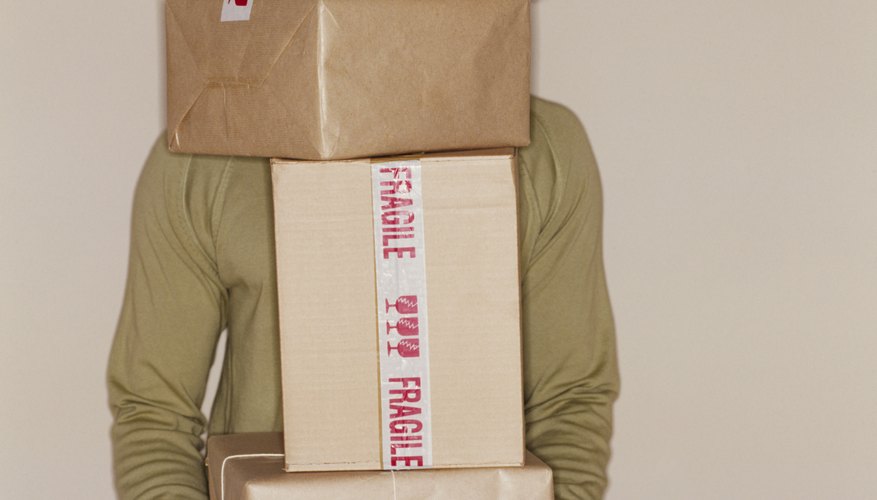 Whether you conduct a lot of business that requires shipping or it's holiday time and your family is on the opposite coast, a trip to your local post office can be time-consuming and stressful. Fortunately, the United States Postal Service allows you to print your shipping labels from the convenience of your own home. This will save you a trip to the post office and hours of waiting in line.
Step 1
Go to USPS.com and click on "Print A Shipping Label" -- as of the date of this publication, this option is the third link on the red bar at the top of the Web page.
Step 2
Select the appropriate destination for your package (domestic or international) from the drop-down menu and click the "Sign In >" button. Set up an account with USPS if you do not already have one; if you do, sign in to your account.
Step 3
Enter your return address and the mailing address into the appropriate fields.
Step 4
Enter the package's size and weight.
Step 5
Enter the date you'd like the package shipped.
Step 6
Enter the zip code you are shipping from.
Step 7
Insure your package if you desire.
Step 8
Select the type of shipping service you would like (Parcel Post, Media Mail, etc.). Select the related postage option and click "Continue."
Step 9
Fill out the Declarations page information if you are shipping internationally. Click "Continue."
Step 10
Review your label and postage information to confirm everything is accurate and click "Continue."
Step 11
Pay for your shipping immediately using a credit card, or select the "Bill Me Later" option to be billed for your package shipment. Note: You are subject to credit approval and interest rate charges if you use the Bill Me Later option.
Step 12
Select the printer you want your label to print on and click "Print." Verify your label printed correctly. If so, tell the software "Yes"; if not, click "Reprint."
Step 13
Give your package to your postal carrier for shipment.
Tips
You must have Adobe Reader software to print shipping labels. If you are planning a trip to the post office and want to print shipping labels without postage, select the USPS Shipping Assistant link from the "Print Shipping Labels" page rather than signing in or creating an account.
Photo Credits
George Doyle/Stockbyte/Getty Images