How to Refill Ink Cartridges
by Jackie Johnson; Updated September 26, 2017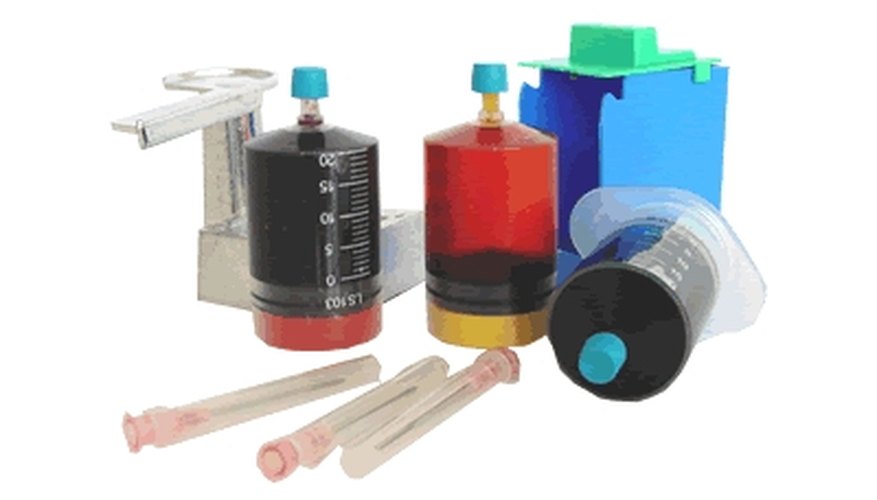 Refilling your own inkjet cartridges will save you a lot of money during the life of your printer. Many inkjet printers have cartridges that can be used repeatedly. Refilling your own cartridges also saves you a trip to the store when you're facing deadlines or are short on cash.
Items you will need
Ink refill kit
Latex gloves
Pin or needle
Paper towels
Non-porous surface to work on
Step 1
You can get inkjet kits from your local office supply store and discount stores such as Target or Walmart. You can also order them from Internet sites. The kits contain ink, blunt needled syringes and instructions. The color ink refill kits contain three bottles of ink: yellow, blue, and red, which looks more like orange. Usually the refill kits provide a separate top on each squeezable bottle and a long, narrow, hollow, blunt-needle for inserting the ink into the cartridge.
Step 2
Remove the cartridge from the printer. Typically, there are two cartridges-one black and one color.
Step 3
Pull back the label. Generally the holes for the ink are on the top of the cartridge, and the manufacturer covers them up with the label. Pull off the label. Some may be difficult to remove, but be persistent.
Step 4
Put the inkjet cartridge on the non-porous surface. The next steps can get messy, so this is a good time to put on the latex gloves.
Step 5
Open your inkjet refill kit, and select the inks with which you will refill the empty cartridge.
Step 6
When you determine the color of the ink inside the cartridge, find the ink refill that matches the color, insert it in the proper hole and and gently squeeze it. Do not squeeze too hard, or the ink will spill. Take your time refilling the colors. The ink goes into a sponge, and it takes a while to absorb.
Step 7
Once you have topped off all the colors, put the label back over the refill holes, and push it down so that it adheres to the cartridge. If the label has lost its ability to stick, take a piece of tape, and tape the whole label down. Ink evaporates, so the refill holes have to be covered up.
Step 8
Pop the cartridge back into the printer and prime it, according to your printer's directions.
Tips
Inkjet cartridges can be refilled repeatedly, but some manufacturers include a chip in or on their cartridges that prevents you from reusing a cartridge. When you buy your printer, find out if the cartridges can be refilled. It's a good idea to have a couple of wet paper towels handy in case some ink leaks out or spills, which happens more often than not.
Warnings
Refilling inkjet cartridges can be a very messy job. Ink can smear everywhere, so be careful while you are doing it. If you have small children around, store your inkjet refill kit in a place where they cannot get to it. These inks are permanent, and can stain your carpets, flooring, and other surfaces.
Photo Credits
http://www.superjet.com.tw/refill%20ink/images/Lexmark1380619RefillKits.gif
Cite this Article
Choose Citation Style
Johnson, Jackie. "How to Refill Ink Cartridges." Bizfluent, https://bizfluent.com/how-2305366-refill-ink-cartridges.html. 26 September 2017.
Johnson, Jackie. (2017, September 26). How to Refill Ink Cartridges. Bizfluent. Retrieved from https://bizfluent.com/how-2305366-refill-ink-cartridges.html
Johnson, Jackie. "How to Refill Ink Cartridges" last modified September 26, 2017. https://bizfluent.com/how-2305366-refill-ink-cartridges.html
Note: Depending on which text editor you're pasting into, you might have to add the italics to the site name.