How to Write a Nomination Letter for an Award
by Catherine Lovering; Updated September 26, 2017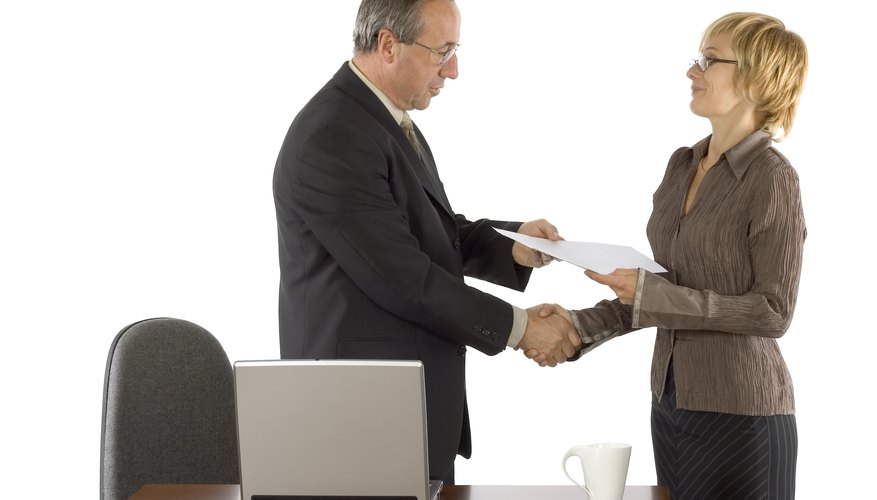 Your nomination letter is an opportunity to demonstrate why a candidate is special. The letter is most effective when it focuses on attributes that the awards committee seeks in a recipient. Demonstrating first-hand knowledge of the candidate's work lends credibility to your suggestion she should receive the award. Be concise but comprehensive. A letter of four to five paragraphs is an appropriate length.
Cover the Bases
Your nomination letter must include all relevant details. Put the candidate in the context of your relationship and your knowledge of her accomplishments. Specifically, your letter should:
Identify you and your relationship to the applicant
Explain the personality characteristics that make the candidate stand out
List the candidate's accomplishments
Place those accomplishments in the context of an organization's mission
Express your enthusiasm for the candidate as a potential award recipient
Your letter should provide concrete evidence that the candidate is qualified for the award and that she is worthy enough to receive it.
Make it Personal
Address the candidate by her first name in the letter to emphasize your relationship. Nomination letters are strongest when the writer demonstrates a first-hand knowledge of the candidate and her work. Identify how your position influenced her work or how you interacted with her. For example, as a volunteer coordinator you may have participated with the candidate in numerous training sessions and hands-on volunteer activities. State the length of time you've known the candidate if it is long enough to lend credibility to your nomination letter.
Keep it Professional
Tailor the nomination letter to the specific award. Beyond simply addressing the awards committee or its head in the salutation, the letter should reference the purpose of the award. Include a sentence or two that states explicitly how the candidate meets or exceeds the attributes the award is intended to recognize. Use respectful language when addressing the committee and when discussing the organization. Address the letter to "Mr." or "Ms." or "The Committee," unless it is an individual you know well and the familiar form is appropriate.
Stick to the Point
Your nomination letter should be comprehensive but precise. Avoid filler text that does not contribute to your argument that the candidate should receive the award. Focus on the candidate's skills, accomplishments, personality traits, innovation, creativity and contributions. Simply stating she held a particular position for a certain length of time is not enough to argue for her recognition. A candidate may already provide a CV or resume that provides this basic information. The letter should focus on why the candidate is held out for distinction.
Photo Credits
Tomasz Trojanowski/Hemera/Getty Images