How to Make a Schedule of Activities
by Contributing Writer; Updated September 26, 2017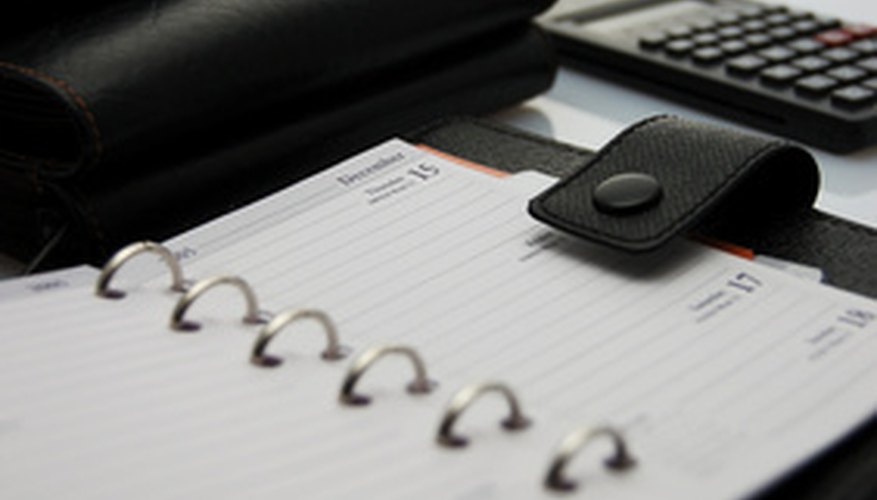 There are many reasons to need a schedule of activities. New employees need a schedule for training and orientation. Seminar attendees need an itinerary. Major advertising campaigns need an organized time line. Schedules are necessary for major events such as political inaugurations. A poorly made schedule of activities can cause events to fail, while a good schedule helps keep things going smoothly.
Items you will need
Paper
Pencil
Calendar
Spreadsheet software (optional)
Smart phone (optional)
Step 1
Gather your materials. Be sure you have a complete list of every activity that needs to be included in your schedule. It is best to start out with a pencil and a full-sized sheet of paper, because it is easier to make adjustments that way. If your event takes place over several days or months, be sure to have a calendar close by.
Step 2
Write out a basic time line. If you know what time you need to start and when the event has to be completed, start with those times.
Step 3
Schedule activities that have to be done at a certain time. For instance, if you are having an event on a college campus and you are using their cafeteria for meals, then meal times will be set for you.
Step 4
Schedule difficult activities in the morning. Most people are at their sharpest in the morning, because they have just had a full night's rest. Any activity that requires concentration or creativity should be done before noon. Brainstorming activities in particular will generate more results in the morning. Of course, there are exceptions. A minority of people function better later in the day. Over all though, it is better to plan for the norm.
Step 5
Fill in the remaining activities according to convenience. Schedule activities that will take place in nearby locations one after the other. If there is travel involved, be sure to allow time for that in your schedule.
Step 6
Schedule a fun activity for the end of the event. Attendees will appreciate something fun that does not require a lot of energy, and they will leave with good feelings about your event.
Tips
Before making your schedule, talk to all the people who have to be at the event. Be sure to plan around them.