Importance of Information Technology in the Business Sector
by Morris Wall; Updated September 26, 2017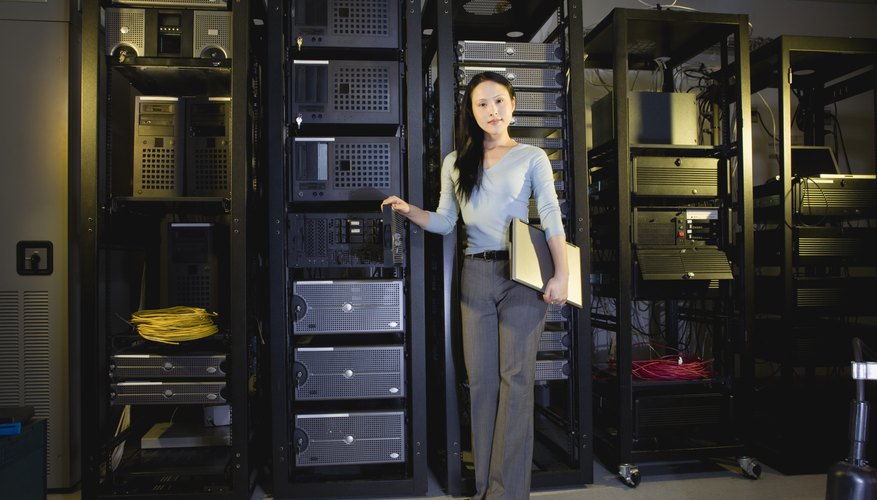 The business sector produces products and services for profit. Information technology describes any technology used to create, process and disseminate information that is critical to business performance. Information technology is important to the business sector as a management tool to optimize the processing of information to produce goods and services for profit.
Process Improvement
Information technology (IT) includes the management information systems (computers, hardware, software, networks) used to automate and support business tasks and decision-making. IT is used to automate simple, routine tasks such as word processing and advanced processes such as production, scheduling and logistics. In this manner, information technology enables businesses to operate efficiently and profitably.
Cost Reduction
Automation improvements achieved by deploying information technology usually decrease the number of personnel required. Economies of scale gained through the deployment of information technology reduce the overall cost for businesses to produce products and services. This has an overwhelmingly positive effect on the financial goals of a business.
Quality Assurance
Quality assurance entails systematic testing to ensure that a business is producing quality goods and services for its customers. Rigorous quality standards help business outputs meet the required specifications. Quality assurance can be used within processes such as marketing, customer support and accounting, as well as product testing. The effective and efficient processing of information related to achieving quality assurance goals is key to the delivery of quality goods and services to business customers.
Communications
The business sector must communicate internally with its workers and externally with its suppliers and customers on an efficient basis. Information technologies including word processing, publishing software, email, internal computer networks, and the Internet facilitate these communications. Mobile devices including PDAs and Internet-based social media networks are evolving as contemporary information technology platforms for business communications and becoming strategic to the business sector.
Competitive Intelligence
Strategic, competitive advantage plays a fundamental role in the success of a given business within its sector. Information technology has become fundamental to acquiring competitive advantage. The combination of process improvements, cost reductions, communications and quality assurance all contribute to the competitive advantage of a business unit. However, the constant identification and analysis of new risks and opportunities are critical to the ongoing success of a business. Evolving Internet aggregation technologies, including social networks, blogs and subscription databases, are becoming important tools needed to achieve and maintain advantages within the business sector.
References
"Does IT Matter?;" Nicholas Carr; 2004
Resources
Photo Credits
Thinkstock Images/Comstock/Getty Images