There is nothing more beautiful than the site of hundreds of luminaria bags lining the track for a Relay for Life event to honor and remember those with cancer. Relay is the signature fundraising event for the American Cancer Society and is held in over 4600 communities worldwide each year and is continuing to grow. The luminaria bags are a good source of income for cancer research. Here are a few helpful ideas to help you sell your bags.
PRICING THE BAGS It is generally recommended that the bags sell for $10. Check with your local committee on what price they have set and follow their recommended guidelines. A good tactic is to tell potential buyers that a donation of $10 is recommended but you will be happy to take any amount.
PREPARE SOME BAGS TO SELL The American Cancer Society will supply your local committee with the standard plain white luminaria bags that have a small purple Relay for Life logo. You should decorate a few bags to sell and to show as an example to show what they are. Decorate with a poem or something simple so they can just add the name of their loved one.
EXPLAIN WHAT A LUMINARIA IS Many people have never heard of a luminaria and so you will need to explain the purpose of the bags and about the special luminaria ceremony that is featured at each Relay event. Having an example of the bag is useful for this.
CONTACT FAMILY AND FRIENDS Send out emails, and publish what you are doing on social networking pages and blogs. Offer to make a luminaria for their loved ones and tell them that you will set it up at Relay, take a photo of it, and save it for them. Often you will find people who would love to honor a loved one but won't be able to attend the event in person. This is also a great way to reach those that live far away.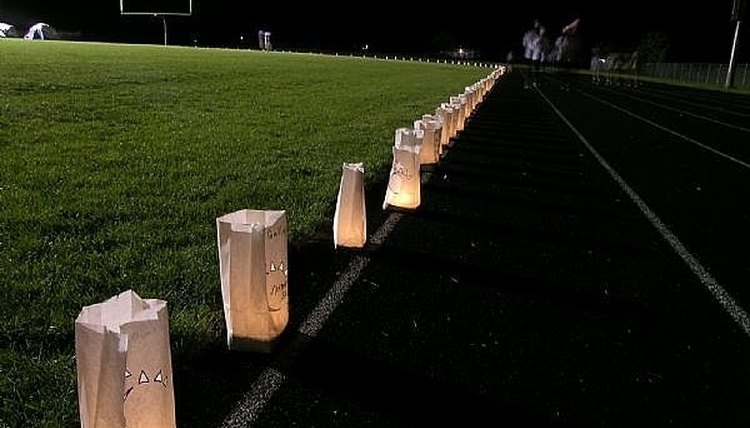 SELLING THE BAGS Contact your local WalMart or Sam's Club and ask if you can set up a table to sell the bags. They will often match what you make or give a donation. Set up at a community garage sale. Decorate your table with Relay banners and use the color purple to attract attention. Have bags for display. Make a form to fill out if they would like you to make the bag for them. Have some markers, stickers, and other craft items available so they can decorate a bag themselves.
OTHER SALES IDEAS Almost everyone you know has been touched by cancer. Make the rounds at work. Set up a display in your work area with decorated bags to sell and donation envelopes. Talk to your doctor, insurance agent, teachers, church members, hair dresser, etc. It never hurts to ask. You will be surprised at how many people will be touched and want to make a donation in the remembrance or in honor of someone they love, they just need to be asked.
Have receipts available for those who request them.

Always carry a Sharpie marker so names can be written on bags that are already decorated.

Carry bags with you wherever you go. You never know when the opportunity might come up to sell one.

Keep careful track of the money collected to turn into the American Cancer Society. They like to track luminaria money separately.

Invite everyone to attend the luminaria ceremony to see their bag lit and glowing.