What Is a Letter of Enquiry?
by Caitlynn Lowe; Updated September 26, 2017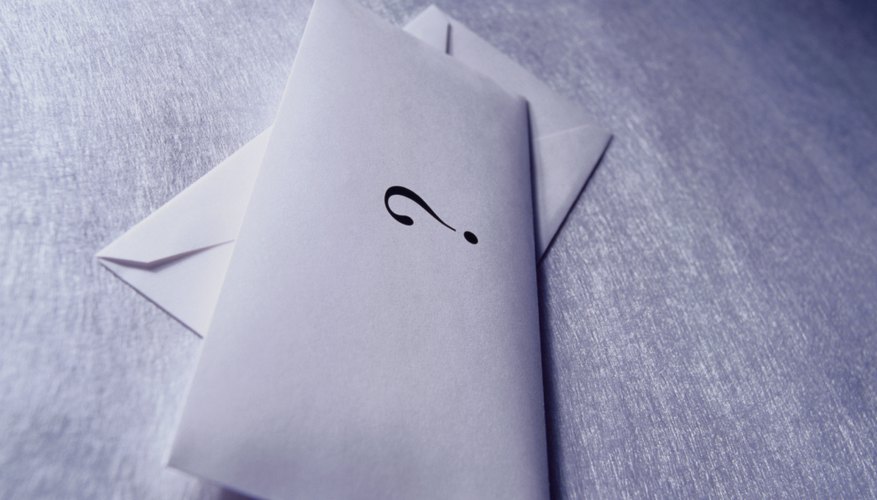 The realm of business communication includes many types of formal letters. The letter of inquiry, sometimes spelled "enquiry," often acts as first step to continued communication. Business between a consumer and producer or between an employer and employee frequently starts with one party's inquiry. Communication may also end once the writer receives that initial answer.
Basic Definition
When a person requires specific information from another party, that person may consider writing a letter of inquiry. Inquiry letters pose a question or request to the reader with the intention of persuading the reader to respond. The ideal inquiry identifies a specific individual capable of providing an adequate response in a succinct, purposeful manner.
Basic Format
Identify a specific contact person within the heading and salutation of your letter whenever possible. A standard inquiry letter has roughly three paragraphs. The first paragraph indicates what the writer wants, such as information about a product, job opening or other request. The second paragraph explains the writer's reasons for making his or her request to the reader. Explain why you chose to contact that specific reader and how the requested information would come as a benefit to you. The final paragraph should tie the letter together with an expression of gratitude for the reader's time and help. The letter typically concludes with a complimentary close, such as "Sincerely," followed by the writer's name.
Solicited and Unsolicited
Letters of inquiry come as either solicited or unsolicited inquiries. Solicited inquiry letters occur most frequently when a business advertises its product or service. The business advertises its product in the hopes of triggering the curiosity of prospective clients. In instances where the consumer cannot inspect the product on his or her own, the consumer must contact the business through a solicited letter of inquiry.
In an unsolicited inquiry letter, the recipient makes no prior offer of information. The sender requests information from a source believed to have the answer to a question, without an invitation to do so from the source.
Solicited Example: Grants and Funding
Many foundations or companies offering grants prefer receiving a letter of inquiry before receiving a full grant proposal. This typically solicited letter of inquiry must fully explain your need for funding and may exceed the basic three paragraph format, but should not exceed three pages. Aside from the basic introduction, a successful letter of inquiry for a grant or funding request must include a short description of your organization, a statement of need, the methodology you plan to use in order to achieve your desired result and any other funding sources you plan on taking advantage of.
Unsolicited Example: Internships and Jobs
Most inquiry letters for jobs and internships come in an unsolicited manner. Consider sending inquiries when you admire a company and think you could share a mutually beneficial work relationship. Begin your letter by introducing yourself and your interest in employment with their company. Follow up by briefly including, in one or two paragraphs, information about your qualifications and how you believe experience within the reader's company will benefit both you and the company.
Photo Credits
Photodisc/Photodisc/Getty Images