A small bakery can serve as a gathering place whether it's located in a busy urban area or small town. An aroma-filled bakery that has a signature specialty can also create memories for families who bring their children to enjoy snacks or couples on a date. Carefully choose the location and budget for the proper equipment. Stay educated through trade associations and make it a hands-on effort to oversee quality baked goods. Word-of-mouth referrals will start building after consistent, initial promotion.
Items you will need
Food handlers license

Tax exemption to purchase wholesale

Health inspection

Ovens

Coffee, brewed

Tables, chairs
Select a location near a busy street with easy access to a residential neighborhood and close to professional offices. Look to locate near other stores and offices that may be likely to attract customers. Allow enough space in the location for at least three tables and chairs that seat two to three persons per table; a wide glass case to hold the baked goods; and a table for brewed coffee pots, milk, sugar and cups. If possible, create a small outside area with limited seating. Decorate with hanging baskets of flowers.
Get a food handlers certification from the Food Safety Institute of America. Store food properly according to the applicable food safety guides from the Food and Drug Administration, Fda.gov. Apply for tax exempt status from the local city and state, if necessary, to purchase supplies from wholesale outlets such as Restaurant Depot. Lease the necessary ovens and bakery equipment to preserve cash flow. Add up the costs of equipment leasing, location rent, salaries, and cost of goods with the expected revenue to determine profitability.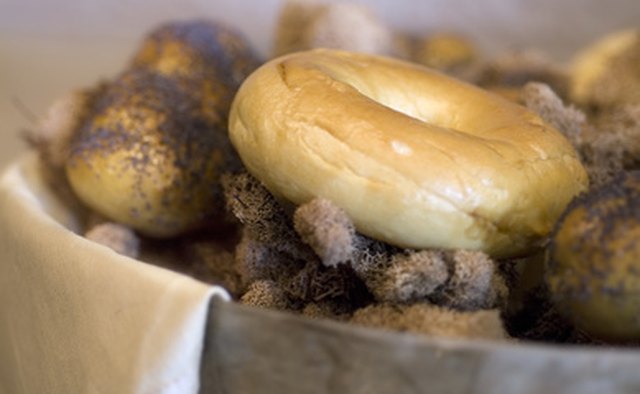 Include popular bakery items like breads, bagels, pastries and croissants. Decide whether to include a limited lunch menu such as chicken salads and croissant sandwiches with ham and cheese or chicken. Survey customers by asking them directly or having them complete a brief questionnaire for a free cup of coffee on the types of bakery items they prefer.
Produce a specialty item such as a line of homemade cheese breads or jalapeno-flavored bread. Invite a limited number of other local vendors to sell their items provided the items can be stacked in an attractive fashion: cookies, stained glass crafts, and prints.
Create two flyers per 8 ½ x 11 paper to say "hello" to the residents and local businesses. Draw a broken line on the right hand side to announce a free cup of coffee with purchase of baked good. Make the promotion time limited.
Decide to include a catering line for parties with advance notice. Promote the signature products the bakery produces as part of the catering line. Post signs to send care packages to college students or relatives who are out of the area.
Tips
Seek to dominate a niche like having a Portuguese bakery, bread specialties, or the gathering place for a particular locale.
Warning
Do not plan for passive income at the beginning. Oversee quality of the baked goods.