Lobby Decorating Ideas
by Mary Tucker-McLaughlin; Updated September 26, 2017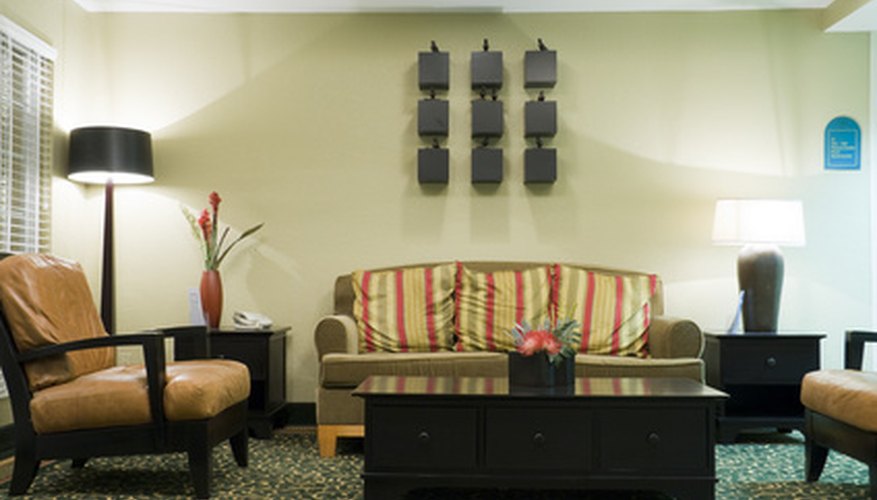 Guests are first introduced to your business, when they enter the lobby. The style in which you decorate, says a lot about your organization. As you begin to design a layout, color and lighting scheme for your lobby area, consider the type of impression you want your customers to develop, upon entering your building. Whether your organization is lavish, conservative, environmentally conscience or whimsical, describing your organization effectively, will help you in your design plan.
Furnishings
The lobby's furniture should be comfortable, in case clients have to wait. Some couches, chairs, end tables and possibly a coffee table, with magazines or other reading material, will enable clients to wait comfortably.
Moderately-priced furniture should be considered, because of high traffic and wear and tear, unless your company is one where lavishness will help you retain clients. Use eco-friendly furniture for an environmentally-conscious business, and bright, eclectic furniture for a fun and funky business.
Company Colors
Does your company have particular colors in its logo? Consider incorporating these colors in the decor. If your company colors are red and gold, consider neutral carpet and wall colors, set off by brightly-colored, red and gold accessories or artwork.
Lighting
Lighting in a lobby area should be adequate for reading or for performing other work-related tasks. Be sure to have some table lamps, on end tables, and overhead lamps, near seating areas. Guests will be happier, if they are able to check their email or read a proposal or two, if made to wait, so be sure the lighting is sufficient.
Photo Credits
Hotel lobby with a couch and two armchairs at night image by Alexey Stiop from Fotolia.com