Etiquette of Ribbon Cutting
by Siva Stephens; Updated September 26, 2017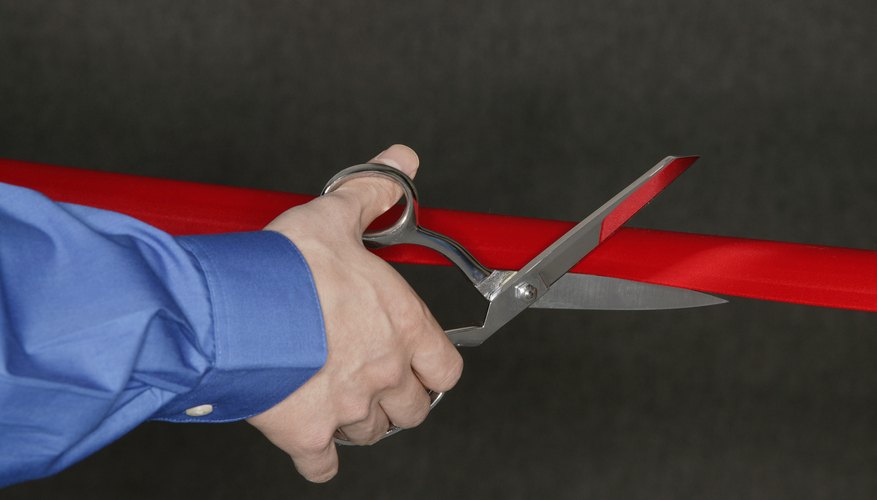 A ribbon cutting is a formal ceremony that celebrates a major milestone for a business or organization. A well-organized ribbon cutting event is not only an opportunity to publicize and advertise your company, it is a chance to mingle with coworkers, peers and community members and thank them for their contributions toward making your establishment a success. As with any formal event, careful planning and attention to etiquette will help to make your ribbon cutting a success.
Timing
Schedule the ribbon cutting within the 12 months following your organization's startup, move or expansion; celebrate the new digs while they are still new. Choose a date at least three weeks out so that you can send invitations well in advance. For maximum attendance hold a catered event at lunchtime or soon after business hours in the mid-afternoon.
Invitations
Send invitations at least two weeks in advance. Include the date, location and time of the ceremony, as well as a map and travel directions to your new location, if necessary. Guests may include employees and their families, customers, clients, local government officials, members of the local media and anyone with whom you do business. Mail the invitations first class; delivery time may be faster than bulk rate.
Speakers
You may choose to have a Master of Ceremonies to keep the event moving according to your schedule. Schedule welcoming remarks, a synopsis of your organization's accomplishments by the head officer and an introduction of board members, advisers or key personnel. You may choose to have one or two local dignitaries speak before cutting the ribbon.
Cutting the Ribbon
The mechanics of the ribbon cutting itself vary depending upon how many people have been selected to do the honors. If there is only one person, he should cut the ribbon at a prearranged signal from a speaker. More than one person could use several scissors to cut one ribbon in several spots, work together to cut one ribbon with a single pair of outsized scissors or cut individual ribbons. For added emphasis, a speaker or the cutter himself can say something like, "I now declare the Smithdale Library open for business" as he cuts the ribbon.
Photo Credits
Comstock Images/Comstock/Getty Images