Key Objectives of Training Employees
by Matt Petryni; Updated September 26, 2017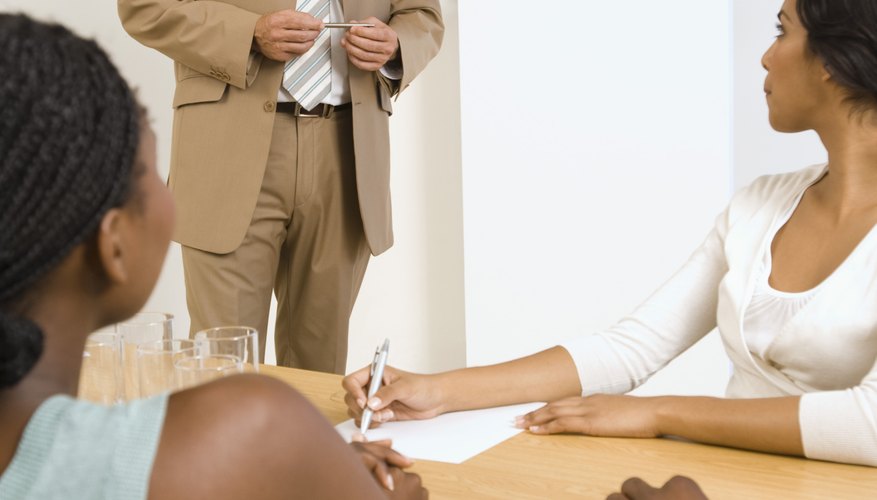 Training employees is a critical part of management at most businesses. Even the best qualified or most experienced new hires will need to become accustomed to the practices and expectations of a business. Training is also important for experienced employees to adapt to policy or product changes and improve employee motivation. Understanding some of the objectives of employee training is critical to help develop an effective training program.
Career Development
Among the most important objectives of training employees is the opportunity for career development and personal employee growth. As employees acquire new skills and abilities, they develop the potential to move up within the company and replace employees that may leave or retire. To maximize career development, managers often have to take an active role in the process. According to the University of California, San Francisco's Guide to Managing Human Resources, "since career development is an ongoing, dynamic process, employees may need encouragement and support in reviewing and re-assessing their goals and activities."
Maximizing Productivity
Training is important to ensure business productivity and growth. Highly skilled employees are more likely to have the abilities and experience to efficiently execute projects and deliver value for customers. In some cases, this objective underlies efforts to get employees up to speed with recently developed technology. In addition, training for productivity is often an effective way to prevent and address ongoing performance challenges, without losing the prior investment the business has made in the employee.
Improving Motivation
According to CliffsNotes, "many people incorrectly view motivation as a personal trait—that is, some people have it, and others don't." In reality, motivation is probably only partially innate: it is also quality that can be learned and unlearned. One of the objectives of training is also to foster and retain motivated employees and provide them with the tools to take on new responsibilities. With this in mind, it is also important to remember that motivation cannot be developed by training alone, and some employees may be harder than others to motivate.
Maintaining Safety and Compliance
Employee training is often motivated by workplace regulations. Employees must be kept up to date in the regulatory requirements of their industry. Occupational health and safety regulations mandate that employees receive regular training courses on practices and precautions that prevent accidents or quality control failures. In addition, employees in some fields may be required to receive regular certifications for skills such as cardiopulmonary resuscitation or liquor service practices. Businesses are often held responsible for accidents and failure to meet regulatory training requirements.
Photo Credits
Jupiterimages/Pixland/Getty Images