How to Create a Workshop Agenda
by Yvonne Garcia; Updated September 26, 2017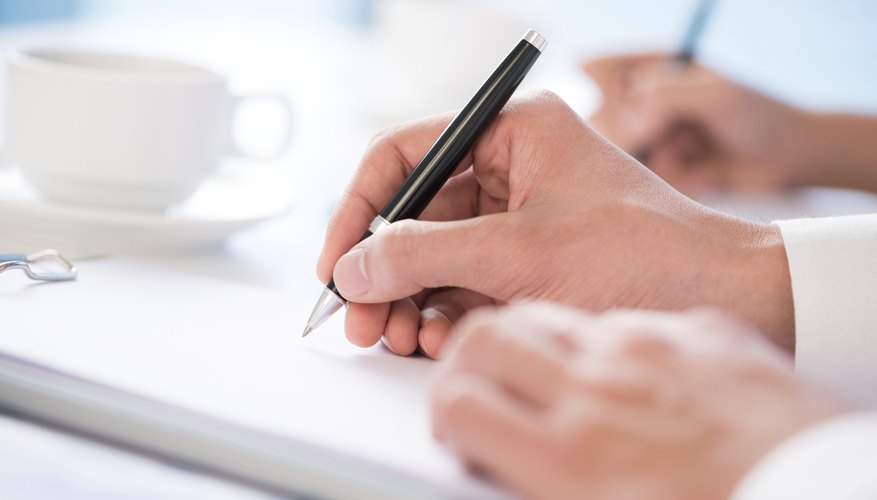 Successful workshops require careful planning. The framework of a workshop can create a vibrant learning experience, or it can result in a hectic day where information is rushed and important topics get lost in the race against the clock. Creating a workshop agenda is more than an administrative task of breaking the allocated time into topics. It also provides an opportunity to evaluate how the time will be spent. An agenda that is well thought out creates a road map for a successful workshop.
Step 1
Create an outline for the agenda. Don't fill in the details; you'll come back to that. Focus on getting the framework in place so that nothing is forgotten in the final agenda. Include the following sections:
Workshop title and details - Introduction - Topics and sessions - Summary - Question and answer session - Evaluation
Step 2
Replace the "Workshop title and details" section with the workshop title, presenters, date, time, location and a brief overview of the focus and goals of the workshop.
Step 3
Add the presenters' names and one-sentence bios to the Introduction section.
Step 4
List the topics and sessions that will be covered in the workshop. Next to each topic, write a one- or two-sentence summary.
Step 5
Enter any brief notes that might be helpful for the final three sections. Otherwise, omit any additional details since they are self-explanatory.
Step 6
Calculate the amount of time needed for each section, including each topic or session. Add the time to the left of each section and topic.
Step 7
Add a 15-minute break in the agenda after every 90 minutes. Also add in a longer lunch break if the workshop length exceeds four hours. Do not skip these breaks.
Step 8
Adjust the time allocated to topics as needed to fit everything into the scheduled time. Be realistic about the time needed, however. Evaluate each topic against the workshop summary and goals listed at the top of the agenda to determine the value it adds and cut out topics, if needed.
Tips
Resist the urge to make the "Summary" or "Question and Answers" sections too brief. Both sections are vital to deepen the participants' experiences and understanding.
Photo Credits
DragonImages/iStock/Getty Images