How to Create an Advertisement Online for Free
by Kay Tang; Updated September 26, 2017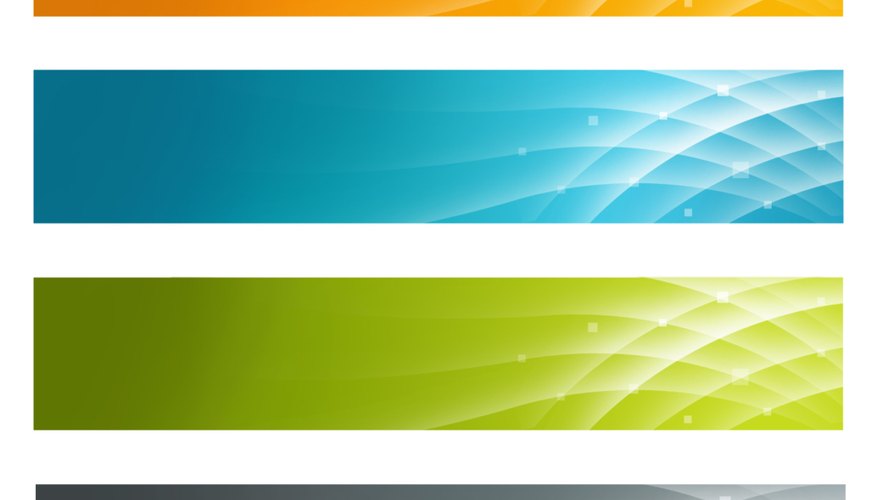 If you're a do-it-yourself marketer and don't have graphic design expertise, you can easily design various types of advertisements – text, image or interactive – with online software. If you're a designer, you can access graphics editors online for free. While most of these services don't cost a cent, you may have to register your email as well as endure irritating pop-up ads.
Creating Banners
Several online services allow you to create your own banners. The software typically includes a choice of templates with preformatted banner sizes. For example, Bannersketch.com offers you a choice of over 1300 banner templates and almost 500 different types of fonts. While you can design a simple text banner in a blink, you can invest more time and create an animated banner. If you're not excited by the choice of graphics, you can upload your photos or pictures and insert them into the banner template.
Optimized for Mobile Devices
If you're trying to design animated banners, many of these free websites use Adobe's Flash application to generate the animation. However, flash banners will not show up on cell phones or tablets. If you're targeting potential customers via their phones or tablets, you'll need an online service that'll provide you with HTML5 code as well as a backup PNG banner. You can use the HTML5 code to self-publish your banner ad.
Designing Posters
In the same way that you can design free banners online, you can create poster- or flyer-sized ads. Websites, such as PosterMyWall, provide you with a choice of theme-based templates, background images, clipart, stock photos and photo effects. While you can generate your posters for no charge, you have to pay a small fee to download high-quality images for printing. For small businesses that use posters and flyers to attract foot traffic, these websites can help to streamline the tedium of generating marketing collateral.
Making Graphics Online
If you're skilled artist or even have a knack for design, you can use free online graphics editors to create your own advertisements. For example, SumoPaint offers a free image editor with an interface that mirrors Adobe's Photoshop. It has similar toolbars, layers palette, filters and color swatch. You can input your own text, adjust the brightness and contrast of an image, position and rotate images and save the file to the cloud or to your computer. While the program isn't as feature-rich as Photoshop, it has plenty of tools for you to create a banner ad.
Photo Credits
Aboli Champhekar/Hemera/Getty Images