How to Send Packages to a Post Office Box
by Shelley Moore; Updated September 26, 2017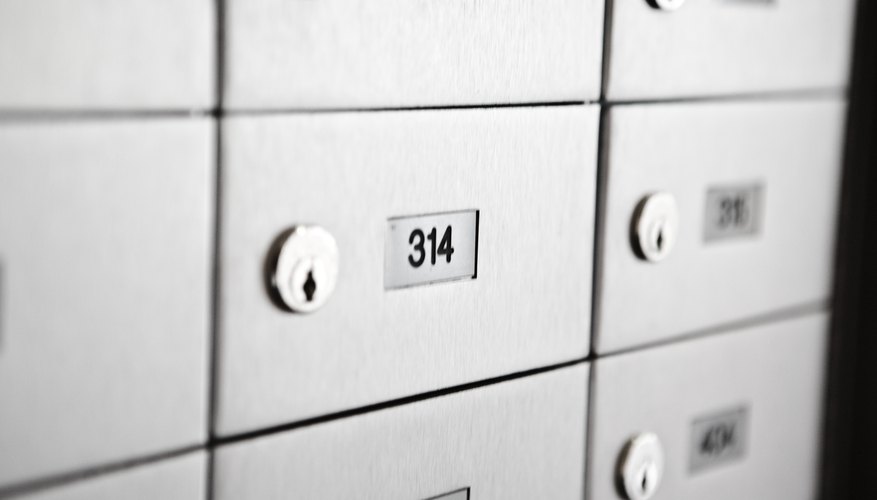 Sending packages to a U.S. post office box is just as easy as sending them to a home address. Most post office boxes, however, are not big enough for packages, and if a parcel arrives for the box holder, a clerk puts a note in the box asking the customer to pick up the package at the counter. Post office boxes are different from personal mailboxes you can rent from private businesses. The U.S. Postal Service does not allow private mailbox users to have "P.O. Box" in their addresses--it must be No. or PMB to differentiate them from boxes at an actual post office.
Step 1
Keep your package within the maximum size and weight allowed. Maximum size, depending on the type of service you'll be using, is either 108 inches or 130 inches when adding the longest length and greatest width. Maximum weight allowed is 70 lbs.
Step 2
Choose the type of service. Most packages are sent by parcel post or priority mail. Priority is usually faster and more expensive than parcel post. You can send light packages, less than 13 oz., via first class mail. You can mail books, compact discs, sheet music and publications by media mail, which is a discounted rate, as long as the package does not include any personal mail, such as a letter. Media mail service can be much slower than the other services.
Step 3
Address the package to the recipient as you would to a home address. Instead of a street name, type or write "P.O. Box" and the number. Include the city, state and zip code.
Step 4
Send the package through U.S. Postal Service mail. The Postal Service does not allow other mailing and shipping companies to deliver mail to a post office box. Take your package to the post office for postage, or weigh your package at home and purchase postage through one of the various online services. If you buy and print postage at home, you can have a mail carrier pick up your package or you can drop it off at the post office counter.
Photo Credits
Jupiterimages/Photos.com/Getty Images