How to Create a Marketing Calendar
by Contributor; Updated September 26, 2017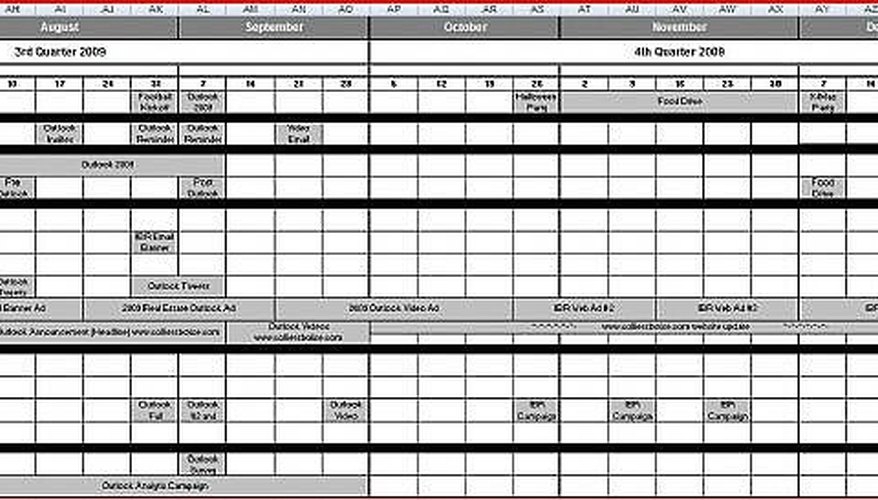 One of the essential tools that every marketer needs in thier toolkit is a Marketing Calendar. Put briefly, a marketing calendar will assists you in launching your marketing goals in a structured manner.
You will be enabled to coordinate your marketing efforts and it will help to assist you in creating a marketing budget while keeping you on track.
Items you will need
Microsoft Excel
Your current marketing plan (if you have one)
A couple of hours
Step 1
I'm a visual person, and love to see at-a-glance what is coming due, what has been done, and most importantly where I might be missing something.
So before we begin, lets download a template to kick-start this how to and speed up the process.
Step 2
By in large, the best marketing calendar template I have found is from Brandeo. It can be downloaded under the creative commons licence here http://www.brandeo.com/node/1135
Step 3
Once you have the template downloaded you'll want to open it up and check out the categories on the left hand side of the template to see if they fit into your plan. If not simply delete the row, or better yet change the name to reflect your strategy.
Step 4
Next delete the timing in the plan by selecting the grey shaded areas, and choosing "no fill" or white from the Excel menu. Tip: The icon for this looks like a little paint bucket.
Step 5
With the standard timing deleted from the template you can now start to add your own. Simply highlight the cells you would like to use, then merge them together and fill the cells with grey (or whatever color you would like to use).
Tips
Remember the 4 P's when filling this out! Happy Marketing!
Warnings
Please remember that the template used in this article is made available under a Creative Commons License and is subject to Brandeo Terms and Conditions.
Resources