How to Start a Starbucks Franchise
by Patrick Gleeson, Ph. D., Registered Investment Adv; Updated September 26, 2017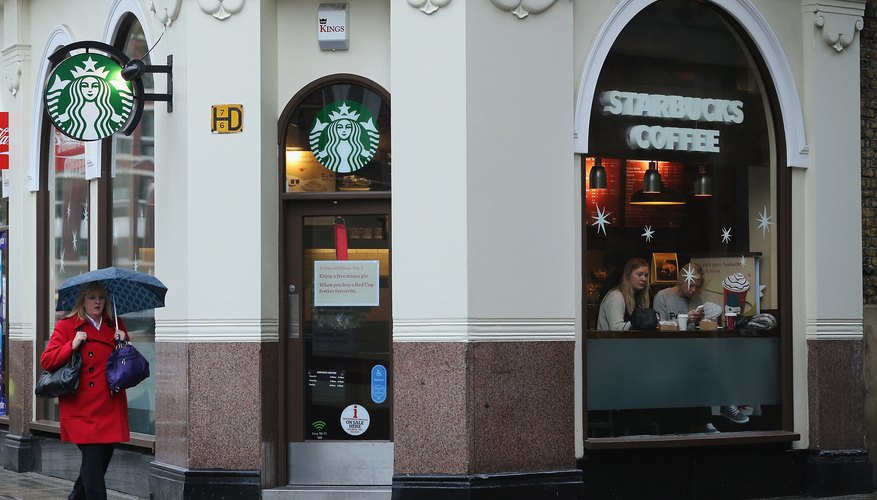 Starbucks does not sell independent Starbucks franchises. It does license qualified businesses to open a Starbucks licensed store within another business. These Starbucks stores are often found in airports, supermarkets and learning institutions, but they can be opened in many other large public facilities. They are nearly indistinguishable from a Starbucks corporate store. Capital and other requirements must be met to qualify. Although Starbucks doesn't make these requirements public, you can gather sufficient information from its website and Starbuck's requirements for another coffee franchise to conclude that Starbuck's is looking for licensees with substantial business experience, preferably in the retail coffee industry, and assets of $1 million or more.
Starbucks Licensed Store Application
Starbucks does not make public its qualifying requirements for opening a Starbucks licensed store. The process begins with your application. Go to the Starbucks website's "Apply for a Licensed Store" page to begin the process. After you fill out and send in the application, it will be evaluated and you will be notified. Although Storebucks doesn't make its qualified criteria public, you can make some educated guesses by looking at existing stores and similar franchises.
No Newbies
The first hints about what it may take to qualify comes from the Starbucks license application, which begins by asking for your business name and website information. It also asks you to state your total assets, liabilities, net worth and your total non-borrowed funds available for investment. These questions indicate at the least that a successful applicant will be a business person with an existing organization and substantial assets.
Desired Licensee Profile
The application also asks if your company has ever applied for a Starbucks Coffee Company License and how many sites the current application is for. Both of these suggest that Starbucks is looking for experienced owners and may prefer potential owners with sufficient assets to own multiple sites. A 2012 Forbes article notes that this preference for franchisees with sufficient capital to operate multiple stores is a growing trend among franchisers. While a Starbuck's Licensed Store is not a franchise -- as Kerry Busheikin, Starbucks vice president of operations for Licensed Stores East, explains it -- the actual operation and oversight of the two are very similar.
Location, Location, Location
Starbucks does offer actual franchises with another coffee retailer, Seattle's Best Coffee, a Starbucks subsidiary. A look at its requirements and costs might give you a general idea of the requirements for a Starbucks Licensed Store. The Seattle's Best Coffee franchise operation is described in some detail by Franchise Directory, which estimates the cost to the franchisee -- exclusive of real estate and real estate improvements -- to range from $265,208 to $446,108 for a cafe and from $178,008 to $399,108 for a kiosk. Many existing Starbuck's Licensed Store operations are more like kiosks than cafes. Currently, Starbucks does not accept Seattle's Best Coffee applications for single stores.
Photo Credits
Dan Kitwood/Getty Images News/Getty Images