Customer Service Call Center Etiquette
by Kyra Sheahan; Updated September 26, 2017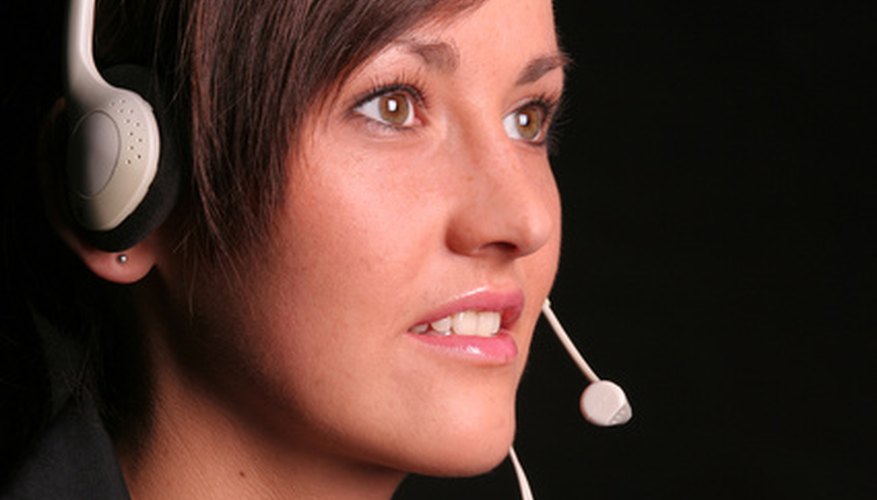 There is more to customer service call center etiquette than simply answering the phones. Customers utilize call centers for many reasons, and most of the time it has to do with questions or complaints about a particular product or service they purchased or received. As such, customer service call centers have etiquette standards that customer service representatives must follow.
Function
Customer service call centers exist to field and troubleshoot complaints, questions and problems customers may be experiencing. According to a 2010 update by the U.S. Bureau of Labor Statistics, customer service reps maintained about 2.3 million jobs in 2008, ranking among the largest occupations in the United States. Customer service reps function as a valuable link between the customer and the company where they acquired a good or service. Since call center customer service reps do not have face-to-face interactions with customers, all of their business is conducted over the phone. As such, having excellent telephone etiquette is how call centers can make a positive impression on the customers they are servicing.
General Telephone Etiquette
Telephone etiquette begins when a customer service rep answers a call and should last until the phone conversation has ended. Having good phone etiquette means answering a call politely, using a friendly tone and keeping your mouth free from food, beverage or gum. When a customer needs to be placed on hold, the proper etiquette is to ask the customer for their permission to do so. The same goes for transferring calls. This allows the customer to know what the customer service rep is about to do.
Good Listening Skills
Since customer service call centers deal with clientele who need some sort of assistance, it is important that excellent listening skills are employed so customers may feel at ease. It is polite to listen to the customer as they tell you about their issue, and refrain from interrupting them while they are speaking. Once you have listened to what they have to say, you should then respond.
Good Speech Habits
Beyond being a good listener is the need to make sure customer service reps are communicating effectively through good speech habits. According to a 2001 update by Fullerton College, it is important to be mindful of sloppy speech patterns. Customer service reps should speak slowly and clearly, refrain from using lingo the customer may not understand and avoid speaking with non-words, such as "um" and "like."
Professionalism
Being professional at all times is standard etiquette for customer service call centers. This includes making sure the customer service rep maintains a calm tone with the caller, as well as being patient with them. Even if callers are angry and yelling over the receiver, customer service reps must be sure to remain professional at all times.