Ryan McVay/Photodisc/Getty Images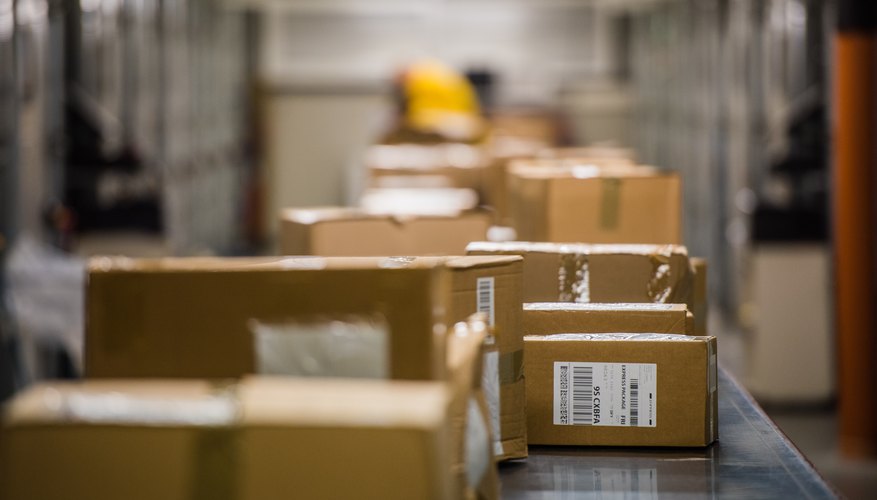 simonkr/E+/GettyImages
For business owners, figuring out how to ship large boxes is just another piece of the occupational puzzle. Maybe you're in the custom cabinetry or furniture-building arena. Or you might be planning to send vintage quilts, reams of handmade paper or custom golf clubs to shoppers or retailers. Whatever your product, there are a few shipping solutions to get it into purchasers' hands. Choosing the best shipping method might come down to cost savings, distance of delivery, or the additional services provided by a particular mail or transportation service or logistics company.
Send by Postal Service
As an easy and cost-effective option, you can use the U.S. Postal Service (USPS) to deliver your slightly large packages – weighing up to 4 pounds – with the First-Class Package International Service. The USPS Postal Store sells mailing cartons in varying dimensions up to 20 x 14 x 10 inches. Buy cardboard cartons or boxes in bulk for ease of use and a consistent, professional look.
As for heavier or larger items, you can send packages that weigh up to 70 pounds and measure no more than 108 inches around the thickest part (called the girth) by USPS Priority Mail to certain zones within the United States and to many other countries. Packages with a girth larger than 108 inches or weighing more than 70 pounds can be shipped to some zones via the USPS Retail Ground service.
Ship With a Courier
A courier service can be an economical option when it comes to shipping very large or heavy boxes, whether you're sending them across town today or to practically anywhere in world as fast as possible. Typically, couriers such as UPS or Federal Express will accept packages weighing up to 150 pounds and measuring up to 108 inches long or 165 inches in length and girth combined. Many couriers can transport oversize packages, but these bigger items are usually subject to additional charges. Full-service courier companies that offer motor, air, rail and ocean freight or container shipping can often deliver even the largest items – such as major appliances, automobiles, and industrial parts and equipment – to practically anywhere you need to send them.
Ship Via a Trucking Company
Have you considered contacting a local trucking company about transporting large boxes across the state, country or maybe even over international borders? Often, local, modest-sized companies provide helpful advice, excellent service and a more personal, one-on-one experience compared to their colossal competitors. Some trucking companies even provide packaging services to look after bracing, cushioning, boxing and labeling your large items for transport. Obviously, an 18-wheeler cannot provide door-to-door service, but many trucking companies have a fleet of various-sized delivery vehicles or will arrange for any needed courier services. Prepare to ask about such details, if you plan to use a trucking company to ship any package.
Regardless of the shipping method you choose, make sure your items are properly insured against loss and damage.
Employ a Freight Broker, Freight Forwarder or Logistics Company
Dealing with a few small or modest-sized packages is probably a manageable task. However, sending out a steady stream of big boxes can be time and space consuming, physically demanding and detrimental to your business's other needs. In some cases, it can be beneficial to hire a freight broker. Basically, freight brokers pair a company's shipment with an appropriate shipper or transportation service. They also can coordinate many of your other shipping needs, from insuring your goods and paying the bill of lading – in your name – to tracking packages and making sure they arrive at your customers' doors, across town or overseas.
Alternatively, a freight forwarder handles the same shipping tasks as a freight broker, but also provides warehouse storage and may pay bills of lading in its own company name, rather than yours. Both a broker and forwarder must register with the Federal Motor Carrier Safety Administration (FMCSA) and carry insurance to protect you from loss.
Third-party logistics (3PL) companies, on the other hand, provide the services of a freight forwarder and much more. In a nutshell, they take care of every step involved in getting your goods from the manufacturer to your consumers, including retail-scan packaging preparations, inventory management, reporting and distribution. This frees up time for you to focus solely on growing your business.
Do the math: Only you – and your accountant and chief financial officer, if applicable – can decide if hiring a freight broker, forwarder or 3PL company is a wise financial move for your business.
References
Resources
Writer Bio
Lorna Hordos is a home-improvement business owner and freelance writer. She has written hundreds of conversational business articles for WordPress.com, Bizfluent, AZ Central and Global Post.