Jupiterimages/BananaStock/Getty Images
A hungry child is a powerful motivator for a foundation or a government agency to take action. Many grants are available for nonprofits fighting hunger. Incorporating elements of sustainable food practice and nutrition education can strengthen a nonprofit's application for a grant to fight hunger. Telling stories of the benefit of your hunger program will also help to attract funding and support.
Government Grants
Many government agencies provide some type of funding for alleviating hunger. Get to know other local organizations that fight hunger that already receive government funding. Most will be eager to collaborate. Programs that will pay for food include the Emergency Food and Shelter Program, the Emergency Food Assistance Program and a wide variety of food aid offered through the U.S. Department of Agriculture. Research local government and food bank websites for information. Most government funding for hunger is provided to local governments, which then distribute the funds.
Private Foundations and Corporations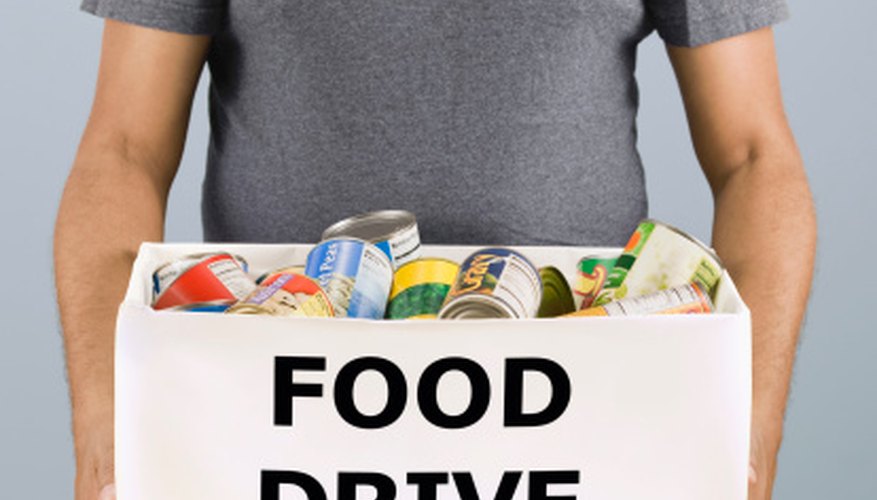 Thinkstock Images/Comstock/Getty Images
Most cities and counties have a community foundation that supports local hunger programs. Access the community foundation's website to determine if your nonprofit organization could be eligible. A focus on nutrition or sustainable practices opens up a broader range of potential funders. Be aware that "place-based funding" is a current focus for foundations. In place-based funding, your program will be eligible if it is serving the hungry in a neighborhood where a place-based initiative is seeking to produce positive change.
Sustainable Hunger Programs
Direct funding from the government and private foundations for traditional food distribution programs may be less accessible than funding to assist people in growing and sharing food in a sustainable way. As of 2010, the traditional concept of a locally operated cooperative food shed has been revitalized as a way to help communities to develop sustainable food and nutrition systems. Government and private grants are available for sustainable, local approaches to hunger such as a food shed.
Networking and Prospecting
Prospecting is a professional fundraising term referring to conducting research to discover foundations, corporations or individuals who might support your nonprofit's hunger program. Closely allied to prospecting is networking. Use media such as Facebook and Twitter to obtain news about hunger programs and initiatives in addition to traditional sources. If a foundation has given a grant to an organization similar to yours, you can network with the recipient to discover if the foundation is also a prospect for your nonprofit hunger program.
Jupiterimages/BananaStock/Getty Images