Differences Between Shopping at a Mall & Online Shopping
by Ian Linton; Updated September 26, 2017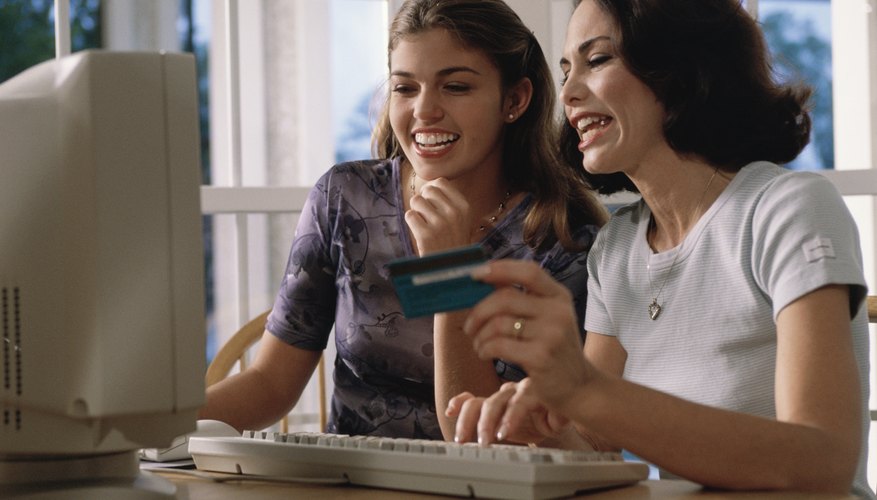 As the Internet continues to provide more shopping options, consumers have a clear choice between visiting a mall or shopping online. The U.S. Department of Commerce estimates that e-commerce sales in the second quarter of 2014 increased 15.7 percent from the second quarter of 2013. This compares to an increase of 4.4 percent for total retail sales in the same period. While online shopping offers consumers the convenience of 24-hour access to a huge range of storefronts -- as well as the opportunity to compare prices and deals among multiple merchants -- online retailers cannot match the mall experience of being able to physically touch or test products.
Choice of Stores
Consumers visiting a mall have a choice of visiting large retail chains or small kiosks that sell different products. Some malls may have stores selling similar products, but at different prices. The stores carry a range of stock that is limited by their physical size or proximity to a distribution center. By shopping on the Internet, consumers can visit any type of store that has an online presence. They also can compare prices across a range of different stores. Online retailers do not have the limitation of physical stock or floor area, so they can display a wide choice of products on their storefronts.
Opportunity for Price Comparison
Consumers may find they can buy at lower prices by shopping online. Not only can they visit many different online stores to compare prices, they also can visit price comparison websites to find the best deals. In a mall, consumers may only be able to compare prices in a small number of stores selling the same products. However, the headline price may not be the only cost to the consumer. Online retailers may charge for delivering small and large goods. Shoppers in a mall may only incur delivery charges for large goods that they cannot collect themselves.
Customer Service
Shoppers in a mall can obtain personal advice and service from store staff if they have queries or want to discuss products in more detail. Online retailers can provide customer service via chat facilities, telephone or email. However, these are remote services, with no opportunity for face-to-face contact. Some online retailers try to overcome that barrier by providing a Web conference service where consumers can view product presentations and discuss issues with an adviser in a virtual face-to-face environment.
Convenience of Shopping
Online retailers offer consumers the convenience of shopping 24 hours a day, seven days a week. Although some retailers, such as supermarkets, are open 24 hours, most mall stores have shorter business hours. By shopping online, consumers do not have to travel. These conveniences aside, online shoppers have the disadvantage of waiting for their goods. Shoppers in a mall can collect their goods immediately.
Trying Before Buying
A major difference between visiting a mall and shopping online is that consumers can inspect or try products before buying. This can be important, particularly for products such as clothing where look, feel and fit influence the buying decision. Online retailers try to overcome this barrier by making extensive use of photographs and making it easy for customers to exchange or return products
Photo Credits
Purestock/Purestock/Getty Images