How to Word a Positive Performance Review for a Coworker
by Timothea Xi; Updated September 26, 2017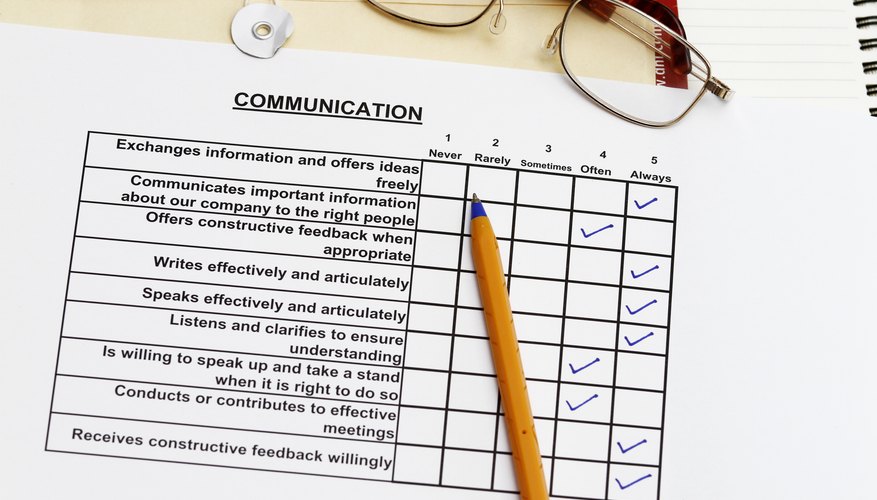 While performance reviews are often associated with a manager commenting on an employee's work, in some cases, a coworker can be the one penning the review for another employee. When writing a positive evaluation for a coworker, you have numerous ways of wording the review. However, do be sensitive to people's differing job functions. While certain phrases can be applied to workers at any level, some comments are only appropriate for certain roles.
Employee Performance Categories
Performance reviews cover many facets of a worker's contributions to a company. These may include attendance and punctuality, creativity and innovation, customer satisfaction, job knowledge, listening skills, problem-solving skills and time management. When phrasing a positive review on creativity, you can say, "John displays remarkable adaptability in the face of obstacles" or "Erica found a solution to a customer billing issue that helped increase revenues by 20 percent." To comment positively on job knowledge, you can say, "Steven keeps up-to-date on industry trends and applies them as necessary to fulfill his job role."
Position-Based Assessments
When writing a positive review for a coworker, your assessment should be tailored to the person's position in the company. Certain comments on the character of a fellow employee may only be applicable to a higher-level position: for a manager, you might say, "Ruben makes decisions based on business needs rather than his own personal agenda," whereas for a nonmanager, you could say, "Randy serves others and avoids selfishness." For a manager, you would address leadership qualities, while for a nonmanager, you would remark on motivation.
Intangibles and Personal Qualities
Your coworker's attributes go beyond the technical skills he brings to the job. You can use the performance review as an opportunity to discuss a person's nonquantifiable characteristics, such as, "Charles has a cheerful attitude that makes other people feel good to be around." You can discuss the person's ethics, such as, "Bob can be trusted with sensitive information," or her judgment, such as "Jean trusts others appropriately." You can also comment on positive traits such as the coworker's being "patient when necessary" and "sincere and forthright."
Positive Spin to Negative Performance
While it may be easy enough to extol a coworker who does exemplary work, a bigger challenge is communicating a coworker's poor performance in positive terms. No one wants to be the bearer of bad tidings, yet you also want to point out the underperforming behaviors so that the employee can correct them. Instead of putting a coworker on the defensive through negative statements such as "Earl is a jokester who doesn't take his job seriously," you can say "Earl's ample sense of humor often provides comic relief to his peers, yet can be a distraction to his work."
Photo Credits
Mario Ragma/Hemera/Getty Images