How to Rent a Truck to Be an Owner-Operator
by Laura Acevedo; Updated September 26, 2017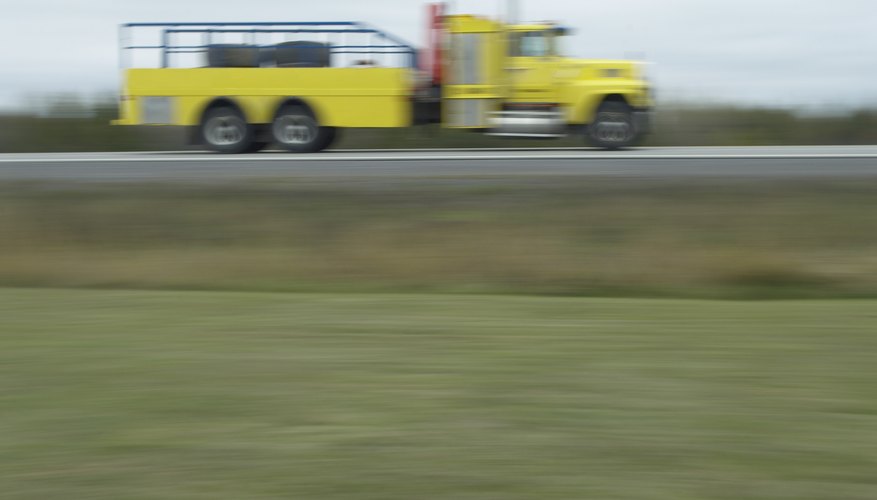 The high financial responsibility of purchasing or financing a semi-truck can prevent potential entrepreneurs from becoming an owner-operator in the transportation industry. Individuals with the experience to start their own trucking company can reduce the barrier to entry by renting a truck through a commercial lease. Renting can be a great option to ensure being an owner-operator is a good long-term goal for your lifestyle and financial objectives. While renting typically decreases your profits, it can allow you to have a current-year model truck, reduce mechanic fees, and provide entry and exit job flexibility.
Step 1
Obtain your CDL (commercial drivers license). Most truck rental companies require a valid CDL license before they will allow you to rent a truck. Some companies may also have limits on the number of points on your license and have experience requirements.
Step 2
Determine the type of truck you need to rent. Single axle trucks are often sufficient for local deliveries; tandem axle trucks provide power for interstate-based day run work; and tandem axle sleepers provide extra suspension, larger fuel tanks and sleeping section for long haul, over-the-road (OTR) work.
Step 3
Discuss rental options with contracting companies. Some companies who hire owner-operators will offer rental arrangements or have a connection with rental companies that can decrease paperwork and potential rental obstacles. Renting through your contracting company may give you access to lower-cost truck insurance and automatic payment options.
Step 4
Look for a local truck rental agency or a national rental agency with a local presence. Having a locally based rental agency simplifies routine maintenance checks and managing mechanical repairs. A locally based agency may also offer free parking.
Step 5
Determine rental agreement preference. Some commercial truck rentals offer a rent-to-own option. If you plan to be in the trucking industry long-term, opt for a rent-to-own agreement that may cost more in the short-term but may lead to higher overall profits once you own your truck.
Step 6
Maintain rental agreements. Keep up with routine maintenance requirements, insurance documentation and rental fees.
Photo Credits
Hemera Technologies/AbleStock.com/Getty Images