How to Start a New Car Dealership
by Matt Olberding; Updated September 26, 2017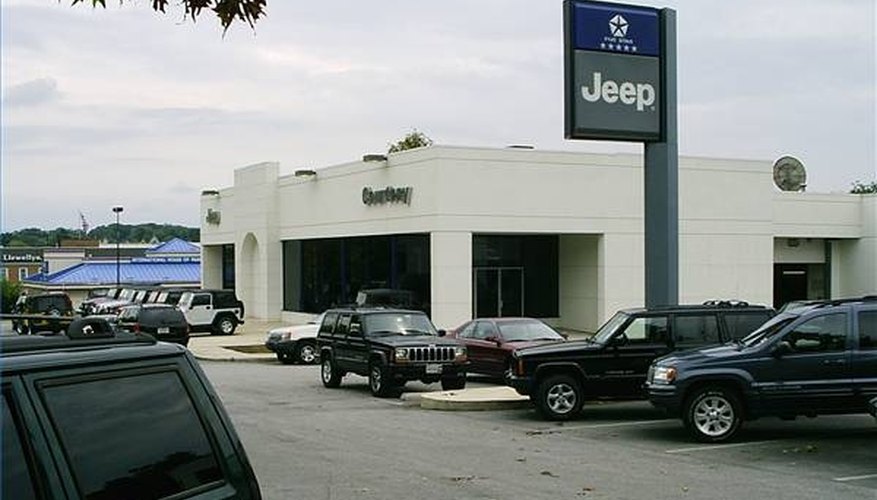 New car dealerships can be lucrative and highly profitable businesses, but they also require a lot of investment and work. Dealerships are usually open at least 12 hours per day 6 to 7 days per week. New car dealerships must carry a large inventory of automobiles so that people have plenty of makes and models of different colors to choose from. And car dealerships are highly regulated and need to follow a host of federal, state and local laws. Before starting a new car dealership, make sure you are willing to invest the time and money needed to make it successful.
Come up with a business plan. This should include things like start-up and monthly budgets, hours of operation, marketing and which automaker you will align with.
Find capital and investment. New car dealerships require a lot of capital to get started. For instance, General Motors requires a minimum initial investment of $350,000. If you aren't wealthy enough to pay for the costs associated with a dealership yourself or don't have enough assets to leverage the financing you would need, look for investors. If you have a solid business plan, your car dealership will appeal to people looking for a hands-off investment that has the potential of big returns.
Find a location. You can either find land on which to build a dealership or look for land with an existing building that will meet your needs. You will need several acres to be able to accommodate your inventory of new cars. A good possibility would be a former car dealership that has gone out of business; however, make sure the reason it went out of business wasn't because of its location. Also, make sure any location you choose is close to other car dealers but also not near any dealerships that sell the same brands you will be selling. And check with your local planning and zoning department to make sure your dealership complies with all local zoning codes.
Get a new car dealership franchise. The easiest way to do this would be to take over an existing franchise from a dealer that wants to retire or exit the business. You can also check out dealer websites for information on how to acquire a franchise. There are also franchised automobile dealership companies that may consider partnering with you if they don't have a presence in your area.
Take care of all licensing and regulation requirements. Incorporate your business and check with your state's Department of Motor Vehicles to take care of any licensing requirements specific to your state. Apply for a sales tax license and, if you will be employing people, check with your state Department of Labor for requirements regarding taxes and withholding.
Make arrangements with financing companies. Though potential buyers can get auto loans through local banks and credit unions, you put yourself in a better position to make a sale if you can offer dealer financing. This can be done through local and national banks, or through finance companies.
Hire a staff. You will need several salespeople, a sales manager, a finance staff and support people. Also, most new car dealerships also offer vehicle service, so you will need to hire a staff for this part of the business as well. Each auto manufacturer will likely have its own training program, but there are additional training programs offered by industry groups such as the National Association of Automobile Dealers.
Market and advertise your business. Put ads in all forms of local media--newspapers, television, radio and any reputable websites. You may want to consider advertising on a billboard at a high-traffic location near your dealership. Also check with automobile trade publications that circulate in your area to see about advertising.
Tips
Car sales can be seasonal, with more activity during spring and summer months, so be sure you budget to make it through the lean times.
Warning
Like any business, a new car dealership can be a losing proposition at the beginning. Make sure you have enough capital in reserve to cover several months of losses, and make sure any investors understand this possibility.
Cite this Article
Choose Citation Style
Olberding, Matt. "How to Start a New Car Dealership." Bizfluent, https://bizfluent.com/how-4868816-start-new-car-dealership.html. 26 September 2017.
Olberding, Matt. (2017, September 26). How to Start a New Car Dealership. Bizfluent. Retrieved from https://bizfluent.com/how-4868816-start-new-car-dealership.html
Olberding, Matt. "How to Start a New Car Dealership" last modified September 26, 2017. https://bizfluent.com/how-4868816-start-new-car-dealership.html
Note: Depending on which text editor you're pasting into, you might have to add the italics to the site name.