How to Name Your Company
by Contributor; Updated September 26, 2017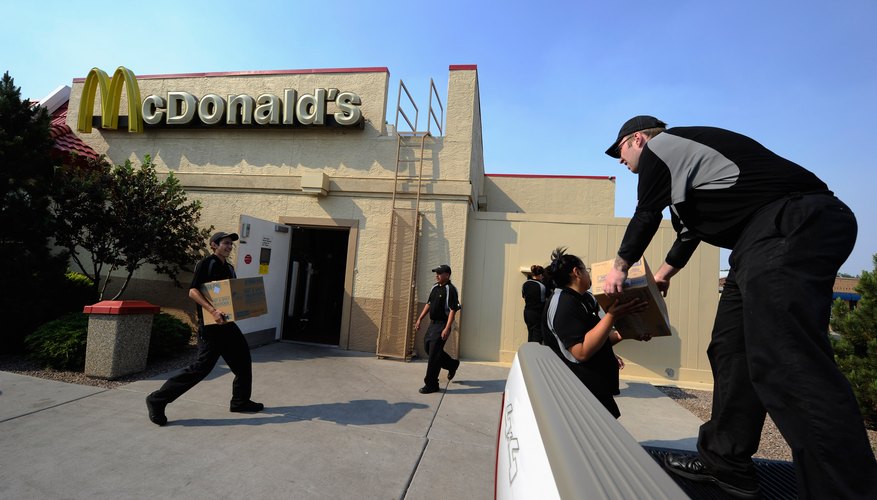 What's in a name? Sometimes it's hard to tell just how important a name is to the success of a business. Does Cadabra.com sound like a hugely successful online bookseller? We'll never know, because Jeff Bezos eventually changed it to Amazon.com. Would you have signed up to get a screen name on Quantum Computer Services back in the 1980s? Maybe not, but millions of people have screen names on AOL (America Online), the eventual name of Quantum. A company name should reflect your desire to build a serious business and a serious business image. Pick a name that won't embarrass you when you apply for a bank loan or venture capital funding.
Step 1
Consider basing your company name on a key concept or set of concepts related to your industry. The networking hardware company 3Com got its name from its underlying ideas: computing, communications, and compatibility. QualComm comes from "quality communication."
Step 2
First names have always been popular business names, especially for local mom-and-pop shops, such as Dave's Copy Center, Mel's Diner, Moe's Tavern, etc. But there have been some big companies with first name-style monikers. How about Wendy's? Or Mercedes? Ben and Jerry's?
Step 3
Your last name might be a good place to start, unless it's too common, like Smith or Jones, or too difficult to spell, pronounce, or remember (Brzezinski Automotive Supplies? Mochizuki Flowers? But there are notable exceptions, such as Kawasaki, Mitsubishi, Suzuki, etc. Easier perhaps are names like McDonald's, Honeywell, Philips, Porsche, Prada, Siemens, and many more.
Step 4
Got a partner or a couple of partners? Use your family names or your given names as the name of your company. But avoid squabbling over whose name goes first. Some good examples: Hewlett-Packard (now just HP), Harmon Kardon, Rolls-Royce, Black and Decker, Bang & Olufsen and Fair Isaac.
Step 5
Another way to incorporate partner names in a company title is by using initials. Remember A&W Root Beer? (From Roy Allen and Frank Wright.) Or DHL (from Dalsey, Hillblom, and Lynn.) A creative use of initials is found in the name Arby's (R, B).
Step 6
If you've come up with a fairly straightforward, generic or staid sounding business name like American Cold Water Company or General Electronic Parts Distribution, you might spiff it up by using just the initials: e.g., ACWC, or GEPD. It's been done successfully, but usually after the company has established itself in its industry. Think Electronic Data Systems, International Business Machines Corporation, Kentucky Fried Chicken, Nippon Electric Company, etc.
Step 7
Place names or geographic locations can be used successfully in business names, as long as they don't tie your company too closely to one area. Adobe Systems supposedly was named after a creek. BHP, or Broken Hill Proprietary, was named after a town called Broken Hill. Fuji was named after Mt. Fuji in Japan. Nokia is a city in Finland. But think twice about a name like Yoknapatawpha County Widgets, especially if your vision is global.
Step 8
Foreign words can make intriguing or catchy business names. Nike, for example, is a Greek word, while Xerox comes from two Greek words. Novartis is derived from a couple of Latin words. Akamai is a Hawaiian word. AltaVista comes from two Spanish words.
Step 9
Try using a random business name generator. These can be fun to use and can actually generate some interesting names. Try Plambeck.org, the webite of a British fellow who developed random name generation software. It works off a database of 120 or so real tech firms and basically finds names that are similar to, but not the same, as the real names. You can adapt one of them to fit your needs and style. Find a link in the References section.
Warnings
Before you decide finally on a name, check to make sure it isn't already in use. If your business is local, look in the yellow pages. Contact the secretary of state in your state to see what name registration papers you need to file. It's very important to check that the name you're considering hasn't already been trademarked for the industry you will be operating in. The U.S. Patent & Trademark Office has an online database called "TESS that you can use to do a preliminary search of trademarks. If your name clears that hurdle, you should then consult a trademark attorney to do an official search, and then proceed to securing your own trademark.
Photo Credits
Kevork Djansezian/Getty Images News/Getty Images
Cite this Article
Choose Citation Style
Contributor. "How to Name Your Company." Bizfluent, https://bizfluent.com/how-4801085-name-your-company.html. 26 September 2017.
Contributor. (2017, September 26). How to Name Your Company. Bizfluent. Retrieved from https://bizfluent.com/how-4801085-name-your-company.html
Contributor. "How to Name Your Company" last modified September 26, 2017. https://bizfluent.com/how-4801085-name-your-company.html
Note: Depending on which text editor you're pasting into, you might have to add the italics to the site name.