How to Conduct a Training Session Effectively
by Lisa McQuerrey; Updated September 26, 2017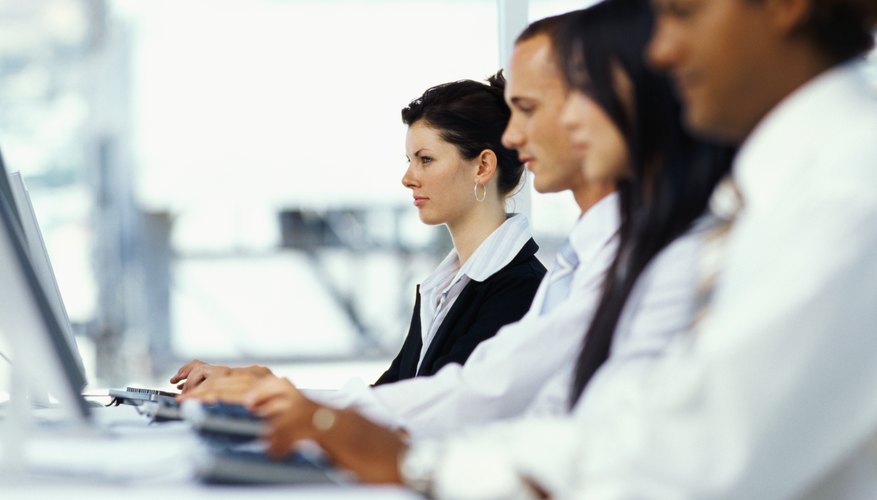 Professional training sessions help employees learn and understand company policies and procedures and can teach them how to be more efficient in performing everyday work responsibilities. Effective training session involve well-defined topics, hands-on involvement and follow-up to gauge progress and understanding.
Start With an Overview
Tell participants what the training session is intended to convey before you start. For example, if you're conducting a training session on improving customer service, you might say, "Today we're going to review recent consumer surveys and discuss the findings, talk about new ways to communicate via phone and email, and conduct role-playing sessions to demonstrate best practices in customer service delivery." This approach lets participants know what to expect as the session unfolds.
Follow an Agenda
Create and distribute a written agenda for the training session and stay on-point, both with presented materials and with time. The agenda should include a session overview, key points and sub-points to be discussed. Set a time frame for each section, and don't deviate too far off course. If you allow the session to get side-tracked, it may force you to rush through subsequent sections and make the training less effective.
Involve Participants
Provide opportunities for training session participants to get hands-on experience with whatever topic you're covering. For example, if the session is on how to operate a new copy machine, let participants physically go through the steps of loading paper, entering access codes, selecting functions and printing documents. If the session is devoted to learning a new software program, have computers set up so participants can watch what you're doing on a big screen while mimicking the steps on their own. At a minimum, ask participants to contribute to the session verbally. For example, ask "What do you think are the most common reasons for late shipments?" and invite participants to volunteer answers.
Encourage Feedback
Build in a brief period for questions and answers at the end of each portion of the training session to ensure everyone understands the information presented. Watch the audience to gauge if they're "getting" the material. If you see expressions of confusion or participants talking to each other to verify information, don't move on until everyone is up to speed. Repeat key information in a different way or provide real-life examples to illustrate your points.
Summarize Key Points
Much like you started the training session with an overview of what you were about to present, wrap up the session by summarizing what participants should take away from the event. Summarize the key areas of discussion, highlighting main topics. For example, "To summarize, the key elements of internal communication are clarity, consistency and respect." Re-emphasize any areas that participants appeared to struggle with during the session. "If you're having an issue communicating with a colleague, attempt to address the issue one-on-one or schedule a meeting with your human resources representative for dispute mediation."
Photo Credits
Ciaran Griffin/Stockbyte/Getty Images