How to Write and Distribute Minutes of a Meeting
by Laura Reynolds; Updated September 26, 2017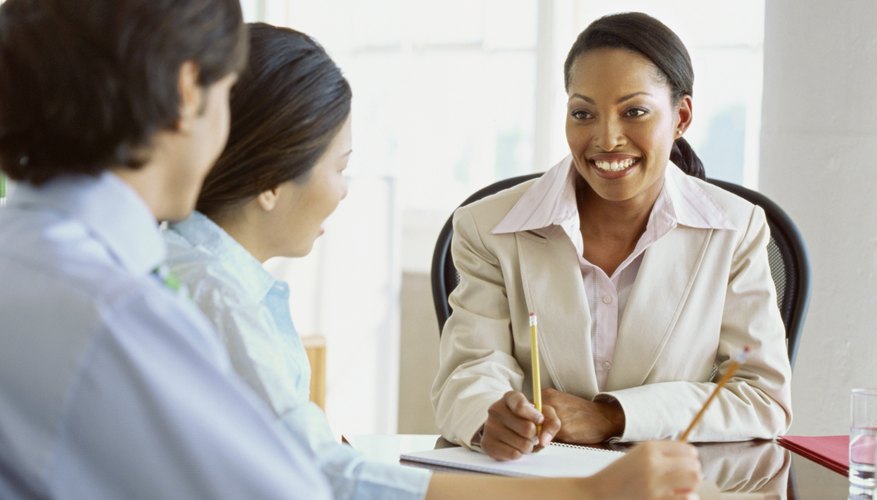 Whether for a condominium association or multinational corporation, meeting minutes form the legal basis for any actions taken by the group. Appropriations, policies, purchases -- any activity of the corporation, non-profit or for-profit -- must be recorded in minutes. Some organizations are more informal than others -- you probably wouldn't hear a neighbor moving to lay a motion on the table in a church committee -- but all must operate according to decisions made by their governing bodies. Minutes provide proof of those actions and define their intent.
Be Prepared
Plan ahead. Assemble the agenda and a list of members or meeting participants in hand before the meeting. If your group does not customarily operate with an agenda, encourage it to start doing so to maintain focus. Find out how many members are needed to conduct business, so you can note the presence of a quorum in the minutes if required.
Make a template to use for your notes. Include spaces for date, time and location, and a checklist of members to tick off attendees and absences. If the meeting involves public input, include lines for names and the issues each addresses. Several websites such as Meetingtemplates.com offer free templates for a variety of types of meeting.
Fill in date, time, place, attendees and quorum information at the meeting. Note who called the meeting to order and the time. If possible, ask members of the public in attendance to register their names so you won't have to ask how to spell them. In large membership groups, circulate a sign-up sheet to double check your attendance checklist.
Execute Accurately
Record each issue, and any action taken on each. Always include the name of the member who made the motion. The first motion generally is to accept the minutes of a previous meeting, followed by any committee reports. Include recommendations and any action taken in response. Preserve written committee reports to include with the final minutes. Do not attempt to summarize discussions.
Note the names of those who introduce, move or otherwise advocate action along with an accurate restatement of each motion. Many organizations also record the person who seconds the motion. Don't hesitate to ask for restatement or clarification -- this official record binds the group to specific action.
Record votes according to your organization's system. You'll need at least a count of votes. Some groups also add names and record how each individual voted.
Record the time and method of adjournment. Sign your name as secretary-minute-keeper.
Follow Through
Write minutes up immediately, while the meeting is fresh in your mind. Get them to the leader for approval within a day or two along with a list of reports or exhibits.
Send minutes to members and attendees who've requested them by email, First Class mail, a shared app such as Microsoft OneNote or cloud program such as Google Drive.
Prepare an official copy and attach original reports and exhibits for the permanent record.
Tips
Try to perfect a template for your organization's needs rather than try to fit your meeting notes to an abstract template. Many business templates are too informal for organizational or public meetings.

Encourage the use of Robert's Rules of Order in your organization. It is a widely used format that can be adapted to formal and informal meeting.
Resources
Photo Credits
George Doyle/Stockbyte/Getty Images
Cite this Article
Choose Citation Style
Reynolds, Laura. "How to Write and Distribute Minutes of a Meeting." Bizfluent, https://bizfluent.com/how-5294220-write-distribute-minutes-meeting.html. 26 September 2017.
Reynolds, Laura. (2017, September 26). How to Write and Distribute Minutes of a Meeting. Bizfluent. Retrieved from https://bizfluent.com/how-5294220-write-distribute-minutes-meeting.html
Reynolds, Laura. "How to Write and Distribute Minutes of a Meeting" last modified September 26, 2017. https://bizfluent.com/how-5294220-write-distribute-minutes-meeting.html
Note: Depending on which text editor you're pasting into, you might have to add the italics to the site name.