How to Conclude a Business Meeting
by Sameerah Blue; Updated September 26, 2017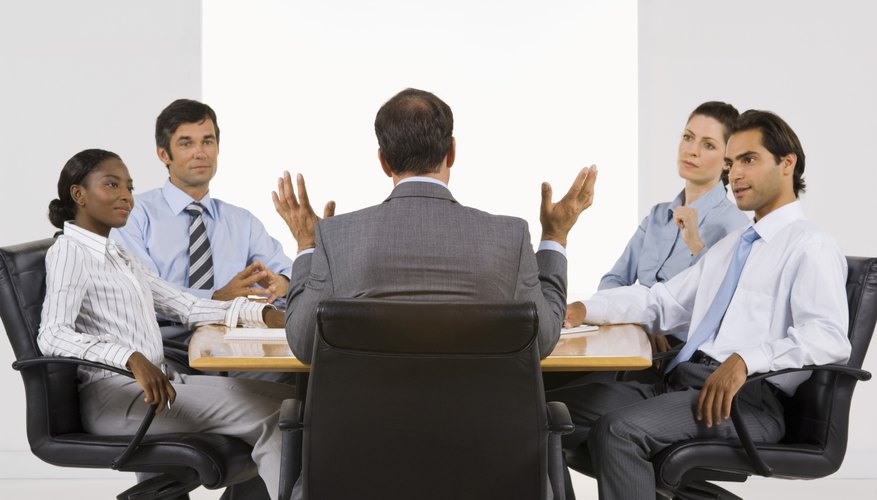 The way you end your meeting is just as important as how you open and run the meeting. A good close to a meeting shows that you are a friendly professional who is open to the ideas of the other people in the room. It will also demonstrate your commitment to the ideas that were put forward earlier in the meeting. A successful meeting close is a simple process that only takes a few minutes.
Items you will need
Paper
Pen
Calendar (optional)
Step 1
Review the items covered in the meeting. This will ensure that everyone has a solid understanding of the things that have been discussed. It also gives people a chance to ask any last minute questions they may have.
Step 2
Write down any decisions that were made during the course of the meeting. This will ensure that you have a record of the things that were accomplished. It's also a good way to make sure that you've covered everything on your agenda.
Step 3
If this is a recurring meeting, give people assignments to investigate any unanswered questions. Write down everyone's assignments. Keeping track of assignments after the meeting makes sure that these topics can be revisited at the next meeting.
Step 4
Discuss topics for the next meeting. Planning ahead can make organizing your next meeting easier by helping you arrange your next agenda. This is also a good time to schedule your next meeting.
Step 5
Thank everyone for coming, and give them your contact information. A simple thank you lets people know that you appreciate their time and input. Making sure everyone has your contact information shows that you are available for questions when the meeting is over and demonstrates your commitment to what was discussed.
Tips
Always remain polite and professional during all meeting phases.
Photo Credits
Jupiterimages/Pixland/Getty Images