How to Start a Bowling Alley Business
by Eric Bank; Updated September 26, 2017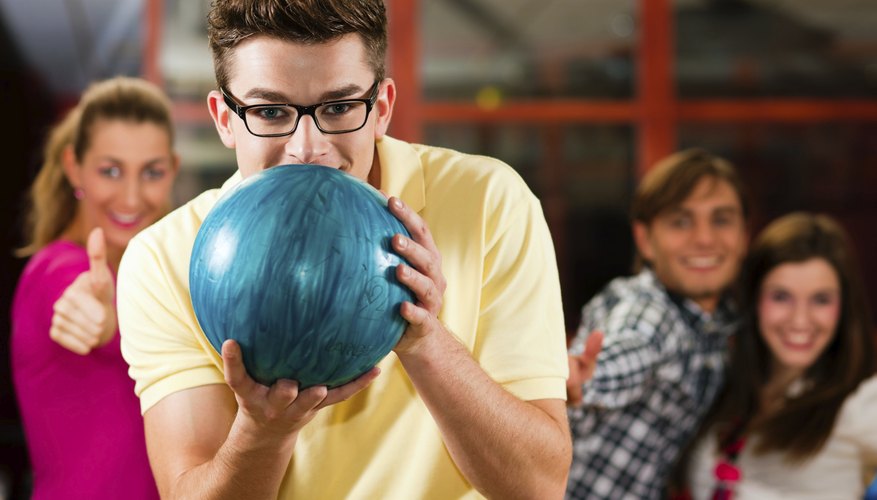 Bowling is a fun hobby and sport, enjoyed by more than 67 million Americans at least once a year. In contrast, starting a bowling center business is a serious proposition, requiring millions of dollars and the cooperation of many experts. One of those experts is John Roush, vice president for new center sales at Brunswick Bowling and Billiards. In a recent interview, we asked Roush to describe the typical process for starting a bowling alley business.
eHow: What motivates someone to open a bowling alley business?
Roush: Most people get involved in the bowling business because they are looking to bring an entertainment venue to their community for the local residents. As they start to research different business concepts, they realize that bowling venues are a cash-flow business with at least 20 percent earnings before interest, taxes, depreciation and amortization. Bowling centers have a long business life-cycle, with no accounts receivables.
eHow: How much does it cost to start a bowling venue?
Roush: There are various types of centers being built today and having different financial requirements. A traditional 24-lane center often can be built for between $4 and $5 million, with most lending institutions requiring the owner to put up 30 percent of the money for the project.
eHow: What are the other types of bowling centers besides the traditional bowling alley?
Roush: *Boutique centers are focused primarily on entertainment and socialization, with full service, upscale food and beverage offerings. Bowling is the primary form of entertainment, but is a smaller component of the business and is set in a contemporary, social atmosphere. The building costs for a typical boutique facility can run more than $350[ per square foot]. Revenues typically split 75 percent from food and beverage and 25 percent from bowling.
Family entertainment centers (FECs) are designed to provide fun experiences in the form of bowling and other venues, such as arcades, laser tag, go carts, bumper cars and party rooms. The food offerings at FEC's are enhanced to match the atmosphere. Beverage service also plays a strong role. Typical offerings include a snack bar, food court and brand-name products and services. The project construction costs for a typical FEC facility can exceed $200 [per square foot]. Typically, revenues are split one-third each for bowling and shoes, games and attractions, and food and beverage.
The most common type of bowling center being built today is a hybrid model, combining two distinct bowling venues -- family entertainment and boutique bowling. This type of center has a multitude of complementary entertainment venues that include arcade/redemption games, laser tag arenas and other indoor attractions, all under one roof. A hybrid model has an enhanced food and beverage service model. The building costs for a typical hybrid facility can run higher than $225 [per square foot]. The typical revenue mix is 36 percent bowling and shoes, 24 percent games and attractions, and 40 percent food and beverage.*
eHow: What factors should go into the choice of venue type?
Roush: The main driver behind the type of business model is the demographics of the market. Boutique locations are usually built in urban marketplaces, whereas hybrids and FEC's lend themselves to suburban trade areas.
eHow: How should an interested person learn about starting and running a bowling center?
Roush: The best sources for education on the business models available and training required would be a market feasibility study conducted by an independent company specific to the bowling industry. The company should have the ability to benchmark various business models similar to the one being considered. Secondly, the Bowling Proprietors Association of America (BPAA) has several programs to assist new owners -- from education and training to discount buying programs.
eHow: What does the typical start-up process entail?
Roush: Start with a market feasibility study to determine the appropriate size and scope of the project. A feasibility study should provide the prospective owners with demographic information so that they can determine the density, income level, population age and the number of employers and employees in the market area. This helps uncover the center's potential customer base, which allows owners to set the size and scope of the project. In turn, those decisions affect other parts of the business, such as group events and bowling leagues. Another factor is the current level of competition in the marketplace from existing bowling centers or other entertainment venues. The feasibility study should include financial statements that estimate both the cost to build as well as the projected revenue.
eHow: What occurs after completing the feasibility study?
Roush: The feasibility study is used to form a business plan to present for financing. The next step is to hire an architect and general contractor to facilitate in constructing the center. As the building is being constructed, you would begin to hire the personnel and conduct training to prepare for the opening. In conjunction with the operational team being trained, the sales and marketing staff would begin to promote the center as well as book parties and events.
eHow: What are the owner's biggest decisions during the start-up phase?
Roush: The biggest decisions that owners need to make throughout the process is to determine the type of business model that they intend to build, determine the building and land costs, the financial structure of the business and where to acquire financing.
eHow: What are some of the common mistakes to avoid?
Roush: The most common mistakes are not following the advice of the market feasibility study, inadequate market research, not sizing the project properly, creating a poor business plan, lacking sufficient capital and, most importantly, not having a strong management team.
eHow: How can a prospective owner get the necessary support to avoid these problems?
Roush: We have a team of new center development consultants that focuses everyone's time on helping customers get into the bowling business. They are skilled at conducting, reading and understanding market feasibility studies and helping in the process of determining the proper size and scope of project. As mentioned earlier, the most important step is having a strong team to manage a bowling facility, and the same is true during the planning and construction phase of the project.
About John Roush
John Roush is vice president of new center sales in the United States and Canada for Brunswick Bowling and Billiards. He is based in Kansas City, Missouri. Roush attended Northwest Missouri State University, where he received a bachelor's degree in international business. His primary role at Brunswick is to help clients with all phases of bowling center development. He and his family have owned and operated a bowling center since 1974.
Photo Credits
kzenon/iStock/Getty Images