How to Start a Hot Wing Restaurant
by Jackie Lohrey; Updated September 26, 2017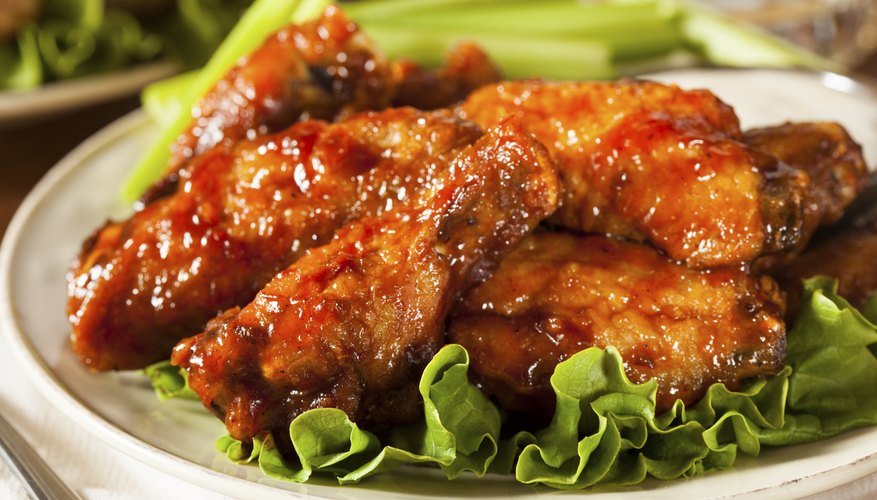 A hot wing restaurant can be a viable, and potentially lucrative, business venture. However, surviving and thriving in this highly competitive market requires planning, action and attention to detail. The planning starts with the choice of equipment, and continues through how you can make the restaurant distinctive from the competition.
Select Frying Equipment
WebstaurantStore.com recommends starting out with a commercial-grade, floor-model tube-style gas fryer or an electric or gas open pot fryer. Although both types are suitable, a tube fryer, which has a larger sediment zone, is the better choice if your menu includes battered hot wings. As of 2014, prices for new equipment range from about $800 for a 50 pound tank capacity floor-model, tube fryer and about $2,000 for a floor-model open pot fryer of the same size. Another option is a pressure fryer. Although prices for used equipment start around $3,000, wings take less time to cook.
Cost Control Considerations
The type of wings you plan to serve will play a role in what kind of meat you buy. For example, jumbo wings offer a good amount of meat, but they're more difficult to maintain a cost-effective sauce-to-meat ratio without reducing flavor per bite of chicken. According to Wy's Wings Food Service, wings in the 8- to 10-pound range are a good choice. It says wings in this weight range sauce up nicely and make a good presentation. They also allow you to serve enough in each order at an efficient cost.
Standard Menu Items
Wing eaters tend to expect a few favorites. According to a National Chicken Council survey conducted in January 2014, about 65 percent of customers prefer Buffalo-flavored wings, 49 percent prefer barbecued wings and about 35 percent prefer deep-fried, breaded hot wings. When it comes to dipping sauces, about 90 percent of those surveyed wanted ranch dressing, barbecue sauce, blue cheese dressing and hot sauce. Plan on having all of them available in the new restaurant.
Create a Competitive Edge
Distinguish the business from the start with specialty wing and dipping sauces. Experiment with flavorings, seasonings, vary the "heat index" of wing sauces and give them descriptive names such as "Sizzling Raspberry" for a "hot" fruit-based sauce. Standard and seasonal house specialties should always be part of the menu.
Photo Credits
bhofack2/iStock/Getty Images