Office Decoration Ideas For Spring
by Lanae Carr; Updated September 26, 2017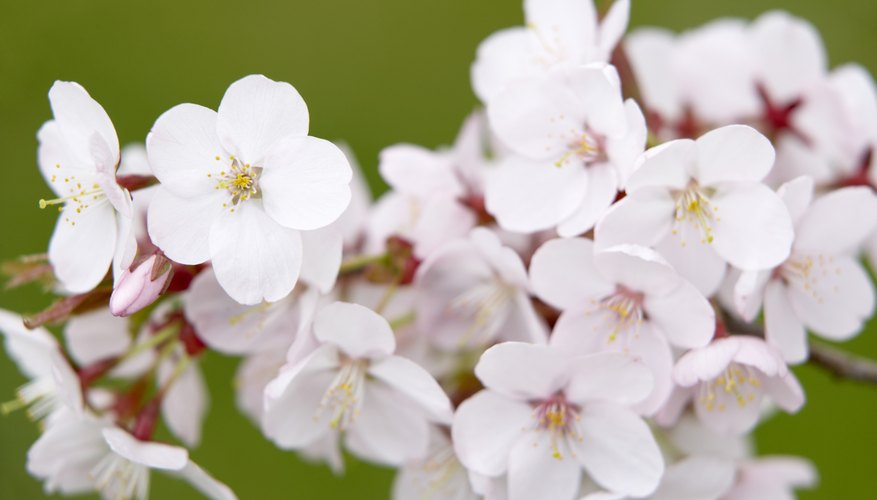 The onset of spring brings anticipation of warm weather, sunny skies and the transformation of barren trees to full foliage. Decorating your office for spring means incorporating the highlights of the season into your space without obstructing workflow. Desktop floral arrangements, pots of scented potpourri and lush green topiaries suit this purpose best.
Cherry Blossom Displays
The U.S. first received cherry blossoms, a native Japanese plant, in the early 1900s. Since then, these plants have appeared in cities nationwide. In some regions, cherry blossoms mark a pleasant entrance of spring. Cherry blossoms on a branch add an artful look to your office space. Choose a solid-colored vase in white or pastel to keep the look clean.
African Daisies in Neon Vases
To incorporate the boldest colors of the season, African daisies in a neon-colored vase work great. An African daisy, also known as the Gerber daisy, is a perennial flower that comes in a variety of rich colors. You can include multiple stems of daisies in one bold-colored vase or accent coffee and side tables with single stems in tiny brightly colored vases.
Porcelain Teapots
Bring the fresh smell of spring to your office using porcelain teapots. You can fill porcelain teapots with potpourri or flowers for a creative spring look. Place these teapots on a receptionist's desk or in common areas of an office to spread the aroma of spring. You can find both teapots and potpourri in most discount stores and thrift stores.
Topiaries
Where budget allows, add topiaries as accents to your office. A topiary is a sculpture of clipped trees, shrubs or other dense foliage. You can purchase topiaries live or fake to fit a desktop or to be free standing in a corner. Companies like Topiary Inc. create custom topiary sculptures to meet a theme or personal tastes.
References
Resources
Photo Credits
BananaStock/BananaStock/Getty Images