The Salary of a Civilian Military RN
by Jared Lewis; Updated September 26, 2017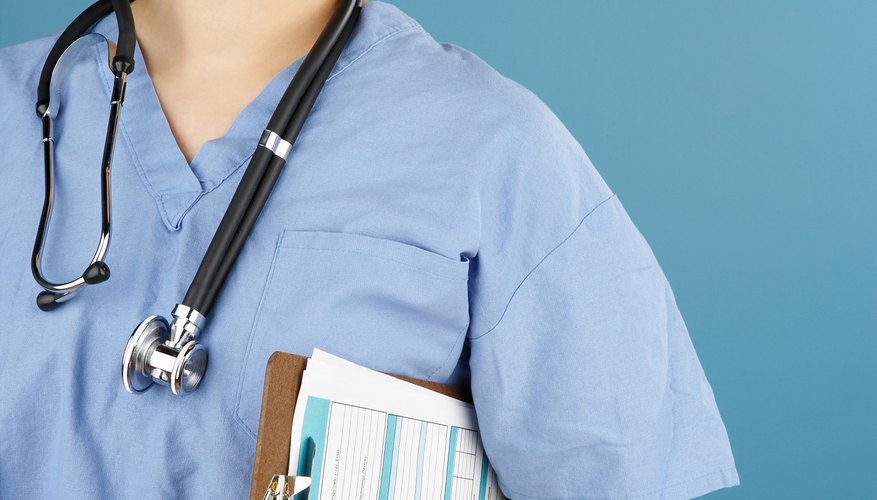 A career in registered nursing can be quite lucrative. The Bureau of Labor Statistics reports that the highest-paid registered nurses made more than $95,130, as of May 2010. Some of the highest-paying jobs for nurses are those with the military. Registered nurses can enjoy the pay and benefits of a government-based health care job without necessarily having to enlist in the military. The salary of a civilian military RN typically exceeds the national average for other nurses.
Pay Scale
The bureau indicates that there were 65,610 RNs employed by the government in 2010. However, this number included both military and non-military nurses. On the low end of the pay scale, registered nurses with the military can generally expect to make about $40,000 or higher per year, depending upon experience and areas of specialization, according to USAJobs.gov. Nurses making below this figure were typically those employed as practical or vocational nurses. Salaries for military civilian nurses can range as high as $110,000 per year.
Average Salary
The average salary of a registered nurse working for the federal government was $79,530, as of May 2010, according to the Bureau of Labor Statistics. However, this number reflects the salary of nurses both in the military and not. By comparison, registered nurses nationwide working in more traditional venues, like civilian hospitals and doctors' offices, made an average annual salary of $67,720 per year.
Benefits
Benefits packages are also offered as a part of military civilian nursing jobs. According to USAJobs.gov, civilian nurses in the military enjoy both life and health insurance as part of their salary package. They can also participate in a military retirement programs and receive paid time off for vacation, holidays and sick leave. In some cases, nurses may receive student loan repayment bonuses and reimbursement for additional education and training.
Job Outlook
According to the Bureau of Labor Statistics, jobs in the nursing field should be plentiful from 2008 to 2018. The bureau expects job growth in this field to exceed 20 percent. Most of the expected growth will be in the private sectors where the majority of nurses work, but options should remain available for civilian nurses seeking opportunities with the military.
Photo Credits
Photos.com/Photos.com/Getty Images