What Is the Typical Gross Margin for Beauty Products?
by Priti Ramjee; Updated September 26, 2017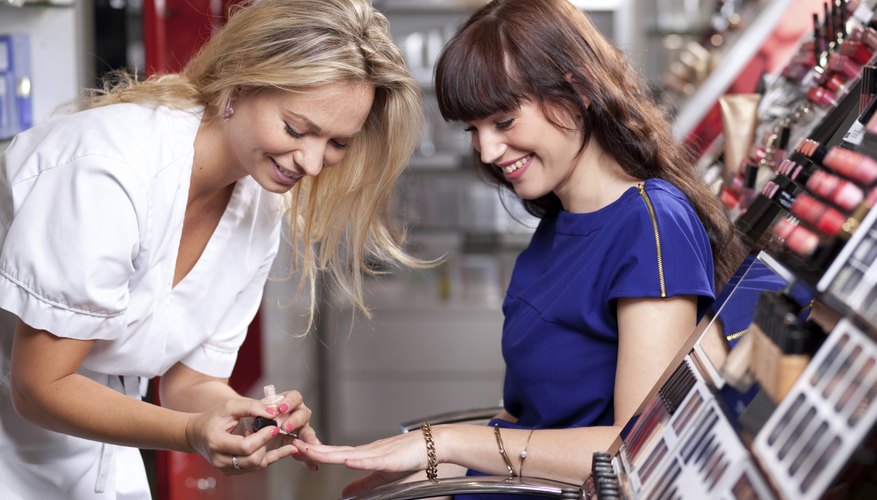 Cosmetics, face cream, hair care, perfume and other beauty products are part of a booming market. Running a beauty products store successfully means understanding your financial statements and paying attention to your gross margin. Your gross margin is not only your guideline for setting revenue goals to cover your expenses, but knowing the industry's typical gross margin can help you determine whether you are on the right track with your marketing, budgeting and operational strategies.
Revenue
To calculate the gross margin of your beauty products business, determine the revenue you are generating, and then subtract the cost of labor, freight and other overhead involved in producing and delivering your goods. According to Hoovers, a business research company, independent retailers in the beauty supply industry typically generate $250 per square foot, as of the date of publication. The average independent retail beauty supply store occupies 1,000 square feet resulting in approximate revenue of $250,000 annually. According to the U.S. Census Bureau in 2002, beauty product stores typically can generate $300,000 annually once established.
Cost of Goods
Once you have established your beauty products business, subtract your cost of goods from your revenue. Typical cost of goods for your beauty products business may include wages and benefits associated with the production, materials used to manufacture the product, cost of inventory, shipping and other costs directly related to the product. According to statistics from the North American Industry Classification System, the typical cost of sales for a beauty supplies store can be 51 percent of total revenue.
Gross Margin
By subtracting 51 percent for cost of goods from $300,000 in annual revenue of an established business, your typical gross margin is $147,000. When you calculate your business's gross margin and compare it to the industry, it tells you whether your beauty products business is at par with the typical gross margin.
Assumptions
The typical gross margin in a beauty products business is affected by the seasons. November and December might increase from previous months because of retail growth during the holidays. Additional marketing toward specific product such as a fragrance line or anti-aging products might result in a boost in sales. An increase in international sales representatives or the addition of Internet commerce to your services can also affect your revenue and resulting gross margin.