How to Design a Restaurant Advertising Leaflet
by Gail Cohen; Updated September 26, 2017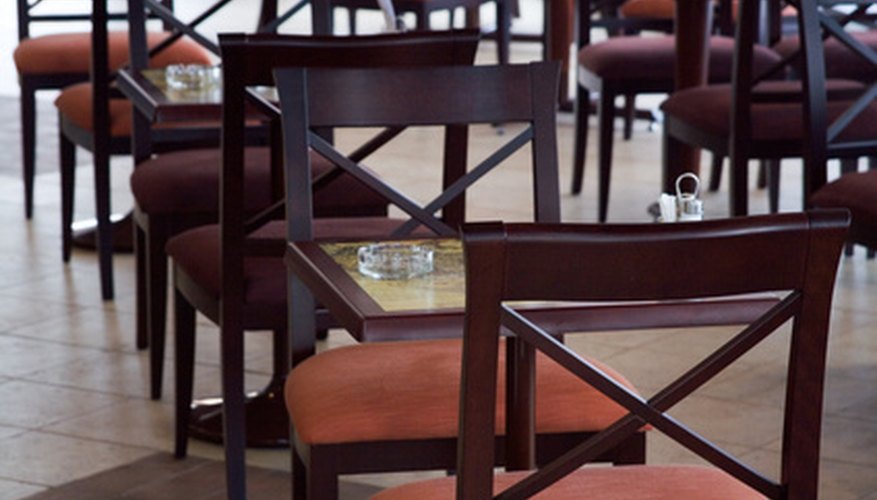 Your restaurant needs a recognition boost, but you don't have a promotional budget that extends to Yellow Pages display ads and pricey newspaper inserts. Follow the lead of those who are big believers in leaflets, the one-page flyers handed out on streets in Las Vegas that invite passersby to redeem them for a free drink, dessert or discount. Make sure the one you produce is as appetizing as your food.
Items you will need
Computer
Software
Photographs
Step 1
Scrutinize your menu. Select popular, frequently ordered dishes as the stars of your leaflet. Prepare samples of the dishes. Use tricks food photographers employ to make everything look irresistible: use a marker to paint grill lines on steak or commercial sprays to accentuate color or add shine so everything looks tempting. Photograph the foods on plates that add contrast to the dishes on your menu.
Step 2
Store the photos you have taken on your computer's desktop. Choose only the pictures that make sense for the current season so the restaurant ad leaflet you are designing strikes a chord. Choose ice cream sundaes and crisp salads in the summer or hot soups and comfort foods like meatloaf and mashed potatoes in the winter. Approach the design as you would any evergreen project so you can revise and reproduce new versions quarterly.
Step 3
Write benefit- and feature-driven copy. Avoid referring to the food images you plan to feature in the ad leaflet, as your goal is to draft compelling copy that is appropriate for use with any images you choose. Use words that stimulate appetites. Come up with a headline that is brief, powerful and short. Edit finished copy down to essentials so the leaflet is not copy heavy. (Aim for 100 words.)
Step 4
Open a new 8.5 x 11-inch document in any software program offering drawing tools. Import one or more food images onto the page. Achieve balance and harmonious design by making one image larger than the others. Aim for no more than three graphics per page so your restaurant leaflet does not look cluttered. Drag text boxes into the design and insert the copy.
Step 5
Add critical information: restaurant name, location, hours of operation and phone and fax numbers. Locate the sweet spot on the lower right quadrant of the leaflet. Place an incentive there, for example, "10 percent off with this flyer," or "present this leaflet for free coffee with breakfast." Always add a "Valid until" note, to motivate people to redeem your flyer in a reasonable amount of time.
Step 6
Make adjustments to your restaurant ad leaflet to create a design that is attractive, easy to read and compelling enough to get people to your restaurant. Check the spelling. Have someone else proof the flyer and vet the design so you can feel confident that everything on the page will motivate hungry people to head to your restaurant for a bite to eat.