How to Shred a Lot of Paper
by Christopher Carter; Updated September 26, 2017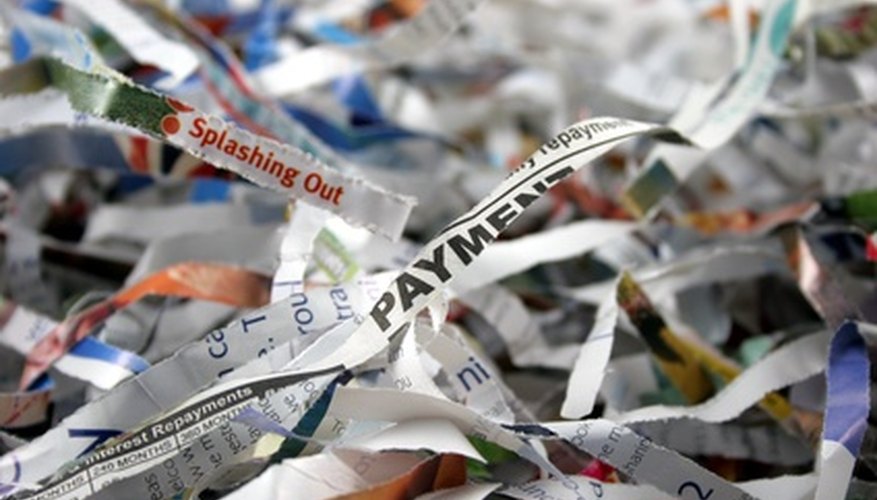 Shredding documents is a concern for large companies, small businesses and individuals. Shredding paper helps prevent forgery, identity theft and other fraudulent activity. If you hire a shredding company, it should be licensed, bonded and insured. This ensures you're dealing with a professional outfit that will properly destroy your sensitive material.
Step 1
Instruct your employees to shred the documents. Shredding a large volume of paper requires a quality commercial shredder capable of shredding hundreds or thousands of pounds of paper hourly. Companies such as Fellowes, Intimus and Ameri-Shred are leading manufacturers. This is likely the most cost-effective way to shred a lot of paper.
Step 2
Pay for a mobile shredding service. These companies destroy your documents at your place of business. Mobile shredding services typically can handle 1,500 to 5,000 pounds of paper on an hourly basis. Obtain quotes from two or three companies in your area to find the outfit that meets your needs.
Step 3
Obtain a service container. If you require frequent shredding, most companies will provide a locked container to store your documents until they're ready to be destroyed. These containers typically hold 100 to 300 pounds of paper. In most cases, shredding companies charge on a per pickup basis.
Step 4
Send your documents to a shredding company such as Shred Nations. (There is a link in the Resources section.) This is feasible if you're shredding less than 300 pounds of paper. Your documents will be tracked until they arrive. After the documents are shredded, you'll receive a certificate of destruction.
Resources