How to Sell Wood Pallets
by Tom Streissguth; Updated September 26, 2017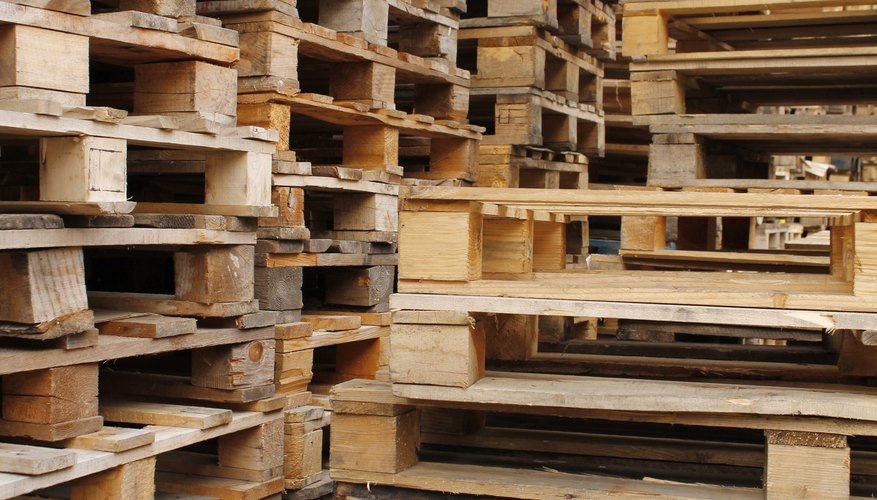 The lowly wooden pallet has long been essential equipment for businesses of all sizes. Although pallets are cheap to make, they're a hassle to handle and supply on hand doesn't always match need. This is where you can join the supply chain as a reliable source of pallets in good, usable condition. Startup capital and equipment is minimal; all you really need is a well-developed sense of hustle.
Gather Your Stuff
Get necessary materials and assets, which for a small pallet business means a dock truck with a lift or a large pickup truck, a pallet jack or wheeled cart, secure storage space, heavy work gloves and tools needed to repair any damaged or broken pallets: A power drill, hammer and nails will come in handy. Cleaning materials, a heavy brush and a source of water will help get dirty used pallets fresh and sparkly. Make sure you've got any necessary permits and licenses to run a business in your community.
Pick Up Sticks
Drive to local warehouses, factories and large stores, and ask if there are any extra or damaged pallets that need to be hauled away. Any business that receives goods in bulk via truck has pallets stacked somewhere, and many of these pallets are simply taking up space and need to be recycled. Instead of paying for that service, the manager would be happy to simply unload them. In a fairly short time you should have a route and a steady supply established. You will need to sort and stack the pallets by size; there are several standard dimensions such as 36 by 48. The first number is the length of the stringers that run between the deck boards; the second number is the length of the deck boards.
Create a Clientele
Find a company in need of a steady supply of pallets. This could be a warehouse or small factory that ships goods regularly. In addition, large pallet distributors need reliable sources, and for a distributor, buying used pallets in good condition is less expensive than manufacturing them. Kamps Pallets of Grand Rapids, Michigan, for example, claims to sell 500,000 pallets a week and will buy usable pallets from smaller recyclers and suppliers. Contact potential customers by phone and inquire about their current needs and what they would be willing to pay for pallets.
Link Up and Learn
Check the North American Pallet Recycling Network for companies looking to buy pallets. These listings connect distributors and buyers and are used by a wide variety of manufacturing companies, pallet brokers, stores, woodworkers, schools, vocational-technical schools and individuals. Search online for local pallet companies, then call them to inquire about their needs. Join the National Wooden Pallet and Container Association to develop new leads and learn about trends in pallet manufacturing, recycling and distribution.
Photo Credits
VukasS/iStock/Getty Images