How to Build a Resume Database
by Jackie Lohrey; Updated September 26, 2017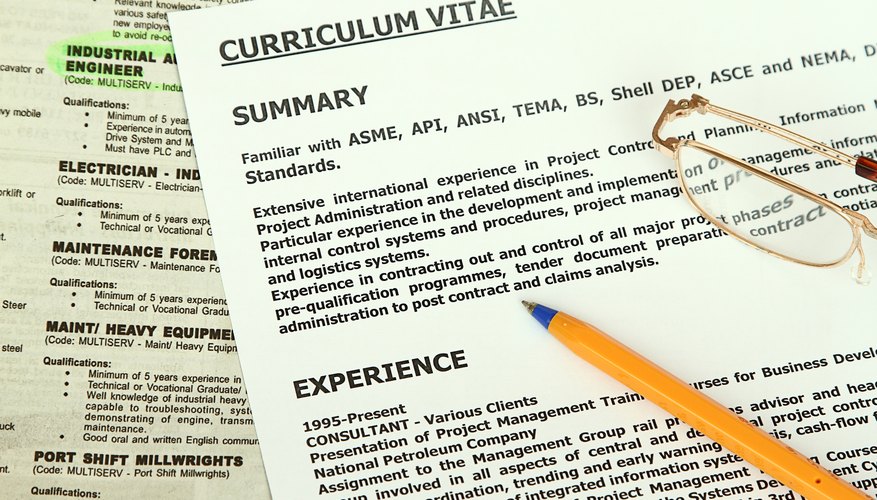 A database full of pre-qualified resumes is a human resources "must-have." However, while a resume database is the mark of an efficient human resources department, building a searchable resume database is a crowning achievement. A searchable database speeds up recruiting and employee selection for both planned and unexpected job openings. Although outsourcing is an option, building a resume database from scratch is a more cost-effective alternative.
Database vs. Spreadsheet Software
Start by choosing the right software. Although spreadsheets have features that may look attractive, long-term storage needs, the amount of information and search capabilities required for a well-functioning resume database make relational database software, such as Microsoft Access or Apache OpenOffice Base, a better choice. As Segie Technologies notes, not only are spreadsheets not suitable for long-term data storage, but they also do not protect data integrity, offer little to no protection from data corruption and spreadsheets can't match the functionality a relational database provides. Once you choose a relational database, familiarize yourself with database essentials, including database normalization, tables, fields, forms, reports and common search terms.
Build a Prototype Design
Build a paper-based prototype design before creating and populating a computer database. Follow normalization rules to create basic database tables and fields. For a resume database, candidate, skills, job history, prior job experience and education are essential tables. Designate the candidate ID as the primary key for each table. When you finish, the candidate ID should be the only repeating field. For example, the candidate table should include the candidate ID and contact information fields. The resume table should include the candidate ID, resume objective, job applied for and a notes field. The skills table should include the candidate ID, skill, skill level and years of experience fields. The education table should include the candidate ID, school, degree, major and graduation date fields.
Build Tables and Create a Data-entry Form
Create a blank database, and then build each table according to your prototype design. The candidate ID -- the primary key -- in each table is the common field that links tables behind the scenes and allows you to query the database. Next, create and customize a data-entry form that binds data-entry form fields to table fields in the database. As you transfer and save information from a resume to the data-entry form, the database will automatically populate.
Query for Information
Get meaningful candidate search results with well-developed Boolean queries. Although using a query wizard is easier, you can also write your own queries. For example, the query "select count(*) from candidates;" will count all the resumes in the database. The query "select candidate ID, last_name, first_name from candidates Where position applied for equals customer service And foreign language equals Spanish;" will return a list of all resumes submitted for a customer service position in which the candidates can speak Spanish.
Photo Credits
Mario Ragma/Hemera/Getty Images
Cite this Article
Choose Citation Style
Lohrey, Jackie. "How to Build a Resume Database." Bizfluent, https://bizfluent.com/how-5273377-build-resume-database.html. 26 September 2017.
Lohrey, Jackie. (2017, September 26). How to Build a Resume Database. Bizfluent. Retrieved from https://bizfluent.com/how-5273377-build-resume-database.html
Lohrey, Jackie. "How to Build a Resume Database" last modified September 26, 2017. https://bizfluent.com/how-5273377-build-resume-database.html
Note: Depending on which text editor you're pasting into, you might have to add the italics to the site name.