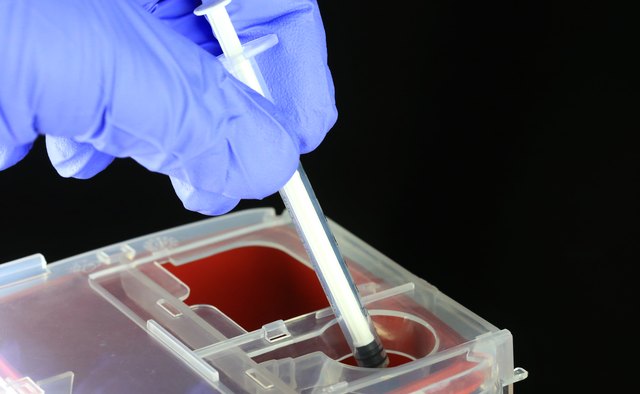 Hazardous waste accounts for 10 to 25 percent of the waste produced by a hospital. Nonhazardous, general waste accounts for the rest. Hospitals reduce health and environmental risks through waste management policies and procedures. The ultimate objective is to protect public health and the environment.
Assess Needs
Estimating the amount, type and source of waste helps hospitals manage its collection, handling and disposal. Data can come from surveys and interviews with employees. Hospitals also may weigh and measure waste.
Develop Plans
Hospitals often convene committees to form waste management plans. They typically include representatives from different departments so that the hospital can address needs holistically. Plans commonly include:
Location and organization of collection and storage facilities

Design specifications for the collection methods, such as bags, containers and carts

Required material and human resources

Assignment of responsibilities for specific personnel

Procedures and practices, such as how waste is segregated and stored

Form Teams
Waste management teams usually are in charge of a plan's implementation. Team members typically include one or more of the following:
Hospital manager

Waste management officer

Department heads

Infection control officer

Finance controller

Classify Waste
Determining whether waste is hazardous affects how it is handled. If, for example, disease can be transmitted if an item is not handled or disposed of properly, then that waste is deemed hazardous. Types of hazardous medical waste include:
Infectious

Pathological

Sharps

Chemicals

Pharmaceuticals

Genotoxic

Radioactive

Provide Adequate Collection Points
Hospitals use waste-generation data to establish baselines for rates of generation in different medical areas and for procurement specifications. Knowing how much they have to collect, hospitals can determine the type, capacity and quantity of containers. The total number of beds is often used to estimate the amount of waste generated per bed per day.
Factors affecting the rate of waste generation, include:
Level of activity in terms of occupied beds and number of staff
Department type
Hospital location, rural or urban
Regulations or policies on waste classification
Segregation practices
Recycle Materials
Hospitals recycle nonhazardous waste when possible. Commonly recycled materials include:
Cardboard boxes

Newspapers and magazines

Plastic water bottles

Shipping materials

Office paper

Aluminum cans

Reduce Health Risks
Waste management is primarily designed to protect the health of people, including hospital workers and those who either handle such waste or are exposed to it as a consequence of careless actions. The main groups of people at risk are:
Medical doctors

Nurses

Volunteers

Maintenance personnel

Patients

Visitors

Workers transporting waste to a treatment or disposal facility

Workers in waste-management facilities such as landfills and treatment plants

Manage Environmental Impact
Medical waste can damage the environment through the release of pathogens and toxic pollutants. For example, landfills where waste is disposed of improperly can contaminate drinking water, and the incineration of materials can generate human carcinogens.