Examples of Diversity Issues in the Workplace
by Mitch Mitchell; Updated September 26, 2017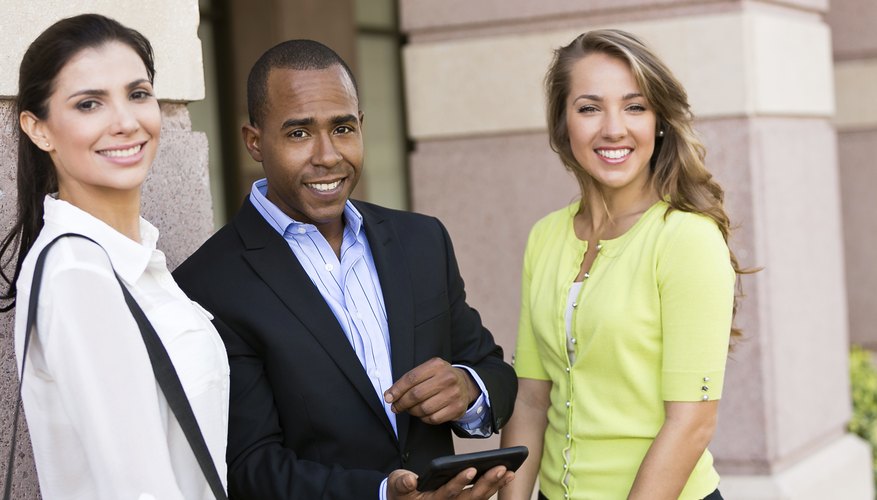 Diversity problems exist in large and small businesses across the United States. A strong diversity program and policy statement is not only a smart idea, it could become a legal one if lawsuits are filed for harassment under Civil Rights laws. A diversity policy sets the tone for how that business wants to be seen in the eyes of their employees and the outside world. Diversity initiatives bring people with different backgrounds together; it integrates the ideas of all while allowing both customers and employees to benefit.
Diversity Issues
Business diversity programs can help alleviate such issues among employees. Some of those issues include racism, sexism, ageism, cultural differences, class, religion, politics, sexual preference and lifestyle. Establishing and putting a policy into place, and then ensuring everyone follows those policies, including upper management, can protect companies from lawsuits, loss of business and the loss of good employees. One way for a small business to do this is to develop a policy statement to incorporate into the employee handbook.
Gender Diversity
An example of diversity in the workplace comes from an article in a now-defunct small business magazine "Fortune" about the story of a small company in Connecticut that had an employee go through a gender change. One of its supervisors underwent a gender reassignment from a female to become a male. The company president decided to intercede early on to make things more comfortable for his supervisor, and to let other employees know the company's support for this potential diversity issue. He and his human resources director ensured every employee was informed to treat the supervisor with respect, both before and after the operation.
Partner Benefits
Disney was one of the first large organizations to announce back in 1995, that it planned to offer health benefits to employees in same-sex relationships. While many religious groups organized boycotts, Disney held firm, and now Disney is regularly recognized as one of the top 50 diversity friendly companies in the United States. Small businesses can follow Disney's example by offering benefits to same-sex partners. When a company offers benefits to spouses but not to same-sex couples, it could inadvertently create a diversity issue, especially in those states that recognize these unions as legal.
Cross Cultural Groups
The U.S. Equal Employment Opportunity Commission enforces Title VII of the 1964 Civil Rights Acts with several amendments since then. The law states that it is illegal in the workplace to discriminate or harass someone on a basis of race, sex, country of origin, class, disability or age. A small business that mostly hires Caucasians but has one or more employees who originated from a different country could create a diversity issue at work. While some employees may think racial comments, slurs or jokes are funny, the company could be sued by the EEOC under the law if a complaint were filed and the charges proved true. A policy that supports diversity could help establish the company's stance and lack of tolerance for such harassment.
Strengthing Employee Relations
Sometimes a company might need a boost from outside their organization to address specific incidents. One diversity trainer recalls being asked to do a training for a small company months after 9/11. The company experienced internal and external harassment against customers and employees of Middle Eastern descent -- or perceived Middle Eastern descent -- which resulted in a breaking down of employee morale. The trainer put together a program that included questionnaires to help participants get to the heart of the issues that caused them distress. A closed forum allowed employees the opportunity to air their thoughts and beliefs, which helped them heal quicker but also gave the small business an opportunity to educate employees on the company's diversity initiatives, and strengthen employee relations overall.
Improve Corporate Culture
In the book "Cross-Cultural Selling For Dummies," author Michael Soon Lee said "Treating all team members fairly is important, both legally and ethically, but fairly doesn't mean treating them the same." Recognizing differences in all people, and finding ways to integrate them within the organization, improves the culture of that organization. An improved culture means fewer incidences of negative behavior among employees because of differences, fewer worries about liability and lawsuits, and it improves communication for the small business.
Photo Credits
LattaPictures/iStock/Getty Images
Cite this Article
Choose Citation Style
Mitchell, Mitch. "Examples of Diversity Issues in the Workplace." Bizfluent, https://bizfluent.com/about-5344793-examples-diversity-issues-workplace.html. 26 September 2017.
Mitchell, Mitch. (2017, September 26). Examples of Diversity Issues in the Workplace. Bizfluent. Retrieved from https://bizfluent.com/about-5344793-examples-diversity-issues-workplace.html
Mitchell, Mitch. "Examples of Diversity Issues in the Workplace" last modified September 26, 2017. https://bizfluent.com/about-5344793-examples-diversity-issues-workplace.html
Note: Depending on which text editor you're pasting into, you might have to add the italics to the site name.