Largest Trucking Companies in the U.S.
by Gerald Hanks; Updated September 26, 2017
Trucking companies act as the backbone of the transportation industry, and large trucks haul everything from food to electronics to furniture across the country. Thousands of trucks carry millions of goods worth billions of dollars every day. The top trucking companies earn billions of dollars in revenues while facing obstacles ranging from fuel prices to maintenance costs to labor issues to state and federal regulations.
J.B. Hunt Transport Services, Inc.
Since 1961, J.B. Hunt Transport Services, Inc., has been a leader in the trucking industry. Hunt Transport was among the first companies to adopt the "container trucking" approach, in which containers went directly from ships and trains onto trucks. Hunt Transport also provides tailor-made freight transportation equipment, services and logistical expertise to meet the needs of its Fortune 500 customers. The company's revenues jumped about 10 percent in 2013, growing from just over $5 billion to $5.5 billion.
YRC Freight
YRC Freight traces its origins to Yellow Transit Company, a bus and taxi company in Oklahoma City in 1924. Yellow Transit later merged with Roadway, the dominant trucking company in the U.S. for decades, and Reimer Express, the leading trucking company in Canada, to form Yellow Roadway Corporation, shortened to YRC Freight. The company's specialty of hauling less-than-truckload freight fills the gap between parcel services such as UPS and FedEx and bigger haulers like Hunt. In 2013, revenues for YRC Freight exceeded $4.8 billion for the second consecutive year.
Con-Way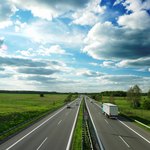 Con-Way started out in 1929 as Consolidated Truck Lines, a small regional trucking company, in Portland, Oregon. Today, the company operates from more than 400 transportation centers across North America, as well as in 20 countries across five continents. Con-Way was also named "Most Admired Company" in transportation and logistics for 2007 by Fortune magazine. Con-Way's efforts in less-than-truckload hauling earned the company over $3.9 billion in 2013.
Swift Transportation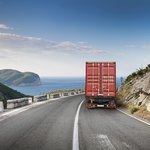 In 1966, the company now known as Swift Transportation started out hauling steel from Los Angeles to Arizona and cotton from Arizona back to Southern California. More than four decades later, the company now owns 11 other trucking subsidiaries, operates more than 16,000 trucks and hauls truckload-sized freight all over the U.S., Canada and Mexico. With its acquisition of Central Refrigerated Service in August 2013, Swift saw a 10 percent jump in revenues, from $3.5 billion in 2012 to over $3.8 billion in 2013.
Schneider National
Founder A.J. Schneider bought his first truck in 1935, during the worst part of the Great Depression. Schneider National reached $1 billion in revenues in 1992, $2 billion in 1996 and $3 billion in 2004. In 2013, the company brought in $3.35 billion, an increase of nearly 3 percent from the previous year. In 2015, the company plans to celebrate its 80th anniversary as one of the leaders of the truckload-freight industry, with offices in the U.S., Mexico, Canada and Europe.
Photo Credits
aarrows/iStock/Getty Images