How Much Money Does an Electrician Make in a Week?
by Brooke Julia; Updated September 26, 2017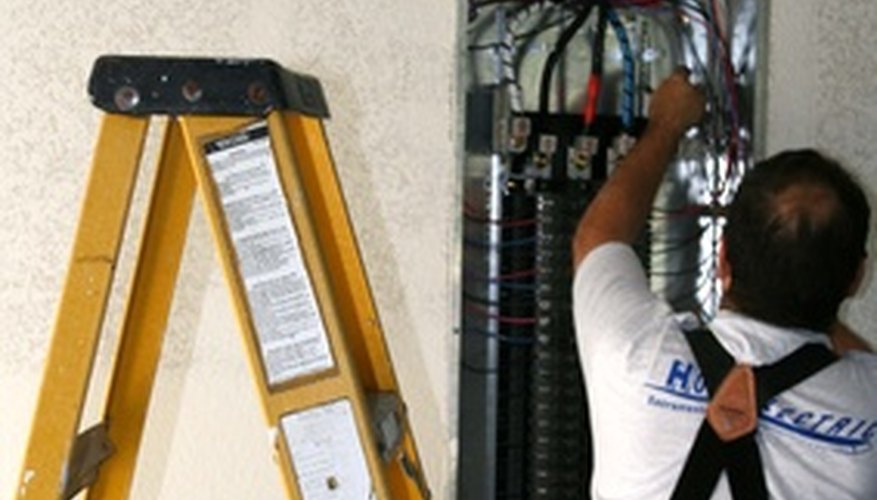 Electricians are taught in both a traditional classroom setting and through apprenticeships, according to the U.S. Bureau of Labor Statistics. Apprenticeships are on-the-job training with pay under a skilled electrician. Most states require electricians to be licensed to practice their trade. An electrician's weekly income depends on who he works for and how much experience he has.
Average Salary
As of 2010, electricians reported earning $14 to $22 an hour on average, according to wage data available at PayScale. Overtime wages increased these numbers to $20 to $33 an hour. Adding yearly bonuses, which can be as much as $1,500, and profit-sharing plans, which can add as much as $6,000, creates a total annual income of $31,000 to $52,000. This averages out to between $600 and $1,000 a week before taxes.
Salary by Employer
In 2010, electricians who worked for a franchise reported earning $14 to $19 an hour ($560 to $760 a week, based on a 40-hour work week). Electricians at hospitals earned as much as $26 an hour ($1,040 a week) and those who worked for the school system reported earning as much as $29 an hour ($1,160 a week). Self-employed electricians tend to earn the most money, according to PayScale, with hourly wages as high as $34 an hour ($1,360 a week).
Salary by Experience
New electricians who have less than a year of experience can expect beginning wages of between $10 to $16 an hour ($400 to $640 a week), according to wage information collected and updated by PayScale in 2010. After five to nine years, pay increases to about $20 an hour ($800 a week), and after as many as 20 years in the business, rises to $31 an hour ($1,240).
Job Outlook
Much of an electrician's job prospects are tied to new construction. As new homes and businesses are built, electricians will have work. Through the year 2018, a job increase of 12 percent is predicted by the U.S. Bureau of Labor Statistics, though if the economy suffers a setback, this figure may drop. Electricians will be needed to install lights and wire solar panels, and more will be needed to fill in the gaps left by retiring electricians.
2016 Salary Information for Electricians
Electricians earned a median annual salary of $52,720 in 2016, according to the U.S. Bureau of Labor Statistics. On the low end, electricians earned a 25th percentile salary of $39,570, meaning 75 percent earned more than this amount. The 75th percentile salary is $69,670, meaning 25 percent earn more. In 2016, 666,900 people were employed in the U.S. as electricians.