How Much Room Do I Need for a Restaurant?
by Robbin McClain; Updated September 26, 2017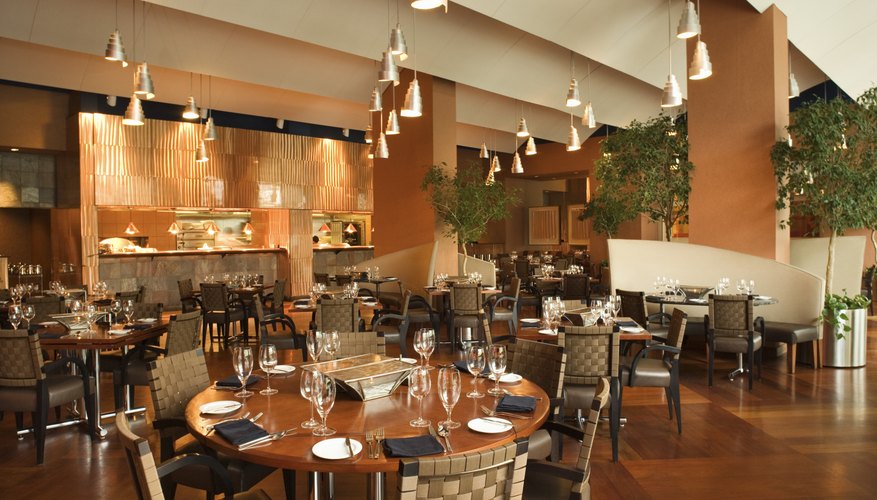 Space planning helps a restaurant operate smoothly. A functional floor plan will naturally move your wait staff from the kitchen to the dining room and your customers from the dining room to the restrooms and coat check. The amount of space needed for a restaurant varies based on the size of the building, yet general guidelines for each functional area exist.
Kitchen
A typical restaurant kitchen has several work areas. The pre-prep area, where cooks clean, chop and process food, requires 225 square feet for a medium restaurant. The hot food prep area, which may contain reach-in freezers, grills, fryers, charbroilers and ranges, needs 300 square feet. A baking area, designed to prepare rolls, cakes and pastries, can be separate from the other two areas and requires 166 square feet.
Dining
Space needed for the dining area depends on the type of restaurant, number of guests and seat turnover. A moderate-price restaurant with 100 seats would need 12 to 14 feet per chair, while a fast food restaurant would only need 9 to 11 feet per chair.
Bar
Restaurant bar and cocktail lounge space can be estimated based on the size of the dining room. For example, a 750-square-foot restaurant with 50 seats would require a 150-square-foot cocktail lounge with 15 seats, and a 10-foot bar with a work area of 120 square feet. A 2,100-square-foot restaurant with 50 seats would require a 400-square-foot cocktail lounge with 40 seats and a 30-foot bar with a work area of 360 square feet.
Other Work Areas
When planning the size of a restaurant, don't overlook smaller work areas. A small restaurant needs at least 64 square feet to receive and inspect shipments and 100 to 150 square feet to store dry food. A single-machine dish room in a small restaurant requires 175 square feet. Service areas vary by type of restaurant and can run from 100 square feet for table service to 50 square feet for a fast food restaurant. Employee lockers, restrooms and a manager's office require additional space.
Photo Credits
Thinkstock/Comstock/Getty Images