Jupiterimages/Polka Dot/Getty Images
Eldercare services are expected to rise 6.6 percent annually through 2011, according to research conducted by the Freedonia Group. As a result, people with a heart for looking after senior citizens can offer seniors valuable services and make money doing so. A good way to start taking care of the elderly in your own home is to look around for mature citizens who do not have family members to help them on a regular basis.
Get some basic experience working with the elderly. This can be as simple as regularly interacting with them by running errands for an elderly neighbor or family friend. If you have little or no experience, consider taking some formal training before you launch your service. As you gain more experience -- whether voluntary or paid -- ask the family of those you're serving to give you a reference letter, which will support your efforts as you endeavor to get more clients.
Get additional experience by registering with a service provider, such as an agency that hires temporary or part-time workers. Types of training you can take to improve your preparedness include training as a personal support worker -- where you learn to be a facilitator in a client's health care routines -- and obtaining a certificate in gerontology -- which, according to San Diego State University, deals with the social aspects of how aging affects populations.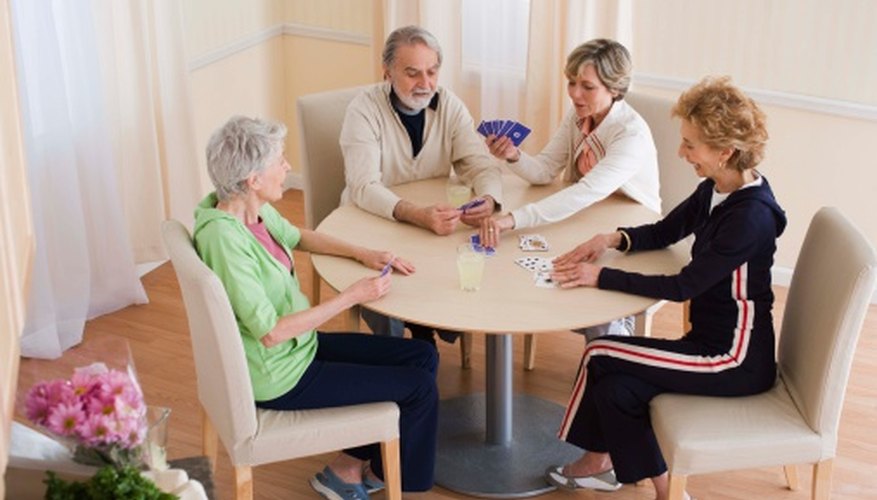 Jupiterimages/Comstock/Getty Images
There are various services you can provide from your home base. These may include companionship for a few hours daily or weekly, with a focus on activities the elderly individual will enjoy. Examples of this include scrabble, jigsaw puzzles or playing cards. You can also offer to accompany seniors to their doctor's appointments, or grocery shopping. These are all valuable services you can provide while giving the individual your special attention.
Again, ask for a letter of reference when the time is right.
If your home has adequate space, you might consider renting a spare bedroom to a senior citizen you'd be willing to care for. For a monthly fee, you can provide personalized services that include nutritious meals and transportation to appointments. However, you should become familiar with your state guidelines in case you need to be licensed to provide the services you're planning.
Advertise your service once you've determined the type of business you want to run to serve the elderly. You can do this by placing free notices in community centers, libraries and local restaurants with notice boards. You should also let your friends and family members know your plans so they can help spread the word. If you live in the southern part of the United States, you should also advertise in northern states, where seniors are often looking to spend the winter months in the sunny south.
There's no shortage of books with valuable information on taking care of the elderly in your own home. Two helpful books are available from Amazon and can be ordered through links in the Reference section.
Make sure you get to know your state's guidelines on taking care of the elderly in your home as a business.
Talk to your insurance company on whether you need additional coverage if you plan to look after senior citizens in your home.
Jupiterimages/Polka Dot/Getty Images