How to Write Administrative Office Procedures
by Nora McAdams; Updated September 26, 2017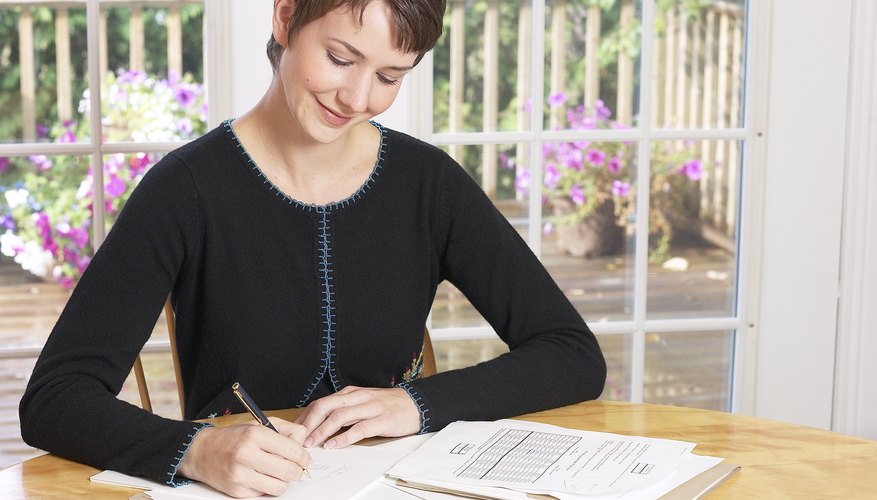 Companies use office administration procedure manuals to train employees, create or purchase software, and to improve efficiency in the office. Software is a large part of office operations and requires procedures to define computer operations such as security, database creation and access, e-mail protocol, and virus protection. The procedures manual will often include flowcharts that aid in creating or purchasing software that meet the needs of your office.
Office administrators are responsible for processing and managing records and documents; preparing for meetings, conferences, and special events; making travel arrangements; and communicating with customers, management, suppliers, and staff. An effective procedure manual describes office practices clearly and with as much detail as possible. A new employee should be able to refer to the manual for information on office procedures.
Items you will need
3-Ring binder

Word processing software
How to Write Administrative Office Procedures
Identify the Procedures
The office administration procedure manual will consist of several procedures. Begin with the highest level, most general procedures, and work down to the most detailed. There should be a high-level flowchart indicating how each procedure fits into that category. Flowcharts make it very easy to train new employees as it is a graphic representation of their work flow. The example below is a simple illustration of some office procedures.
1. Office Records

1.1 Purchasing Supplies 1.2 Filing 1.3 Mail Handling 1.4 Scheduling


1.3 Mail Handling
1.3.3 Receive Mail ->1.3.4 Sort Mail -> Requires Immediate Response?-> Yes -> Mark as Urgent -> Deliver No -> Do Not Mark -> Deliver
When writing the manual, provide written details for each subhead. For example:
1.3.3 Receive Mail The mail is sorted in the mail room and delivered to each department mail bin by 10 a.m. The office assistant picks up the mail, sorts it (see 1.3.4), and determines if the mail requires an immediate response (see 1.3.5).
Collect Procedure Information
This is the most important step in the writing process and will require the most time. Make sure you understand the procedure you are describing and the scope of the project. Understand the audience for this procedure and how it fits into higher level procedures. Who are the suppliers to the procedure? Who are the owners and subject-matter experts? Who are the customers? When you have a clear understanding of the above, follow these steps:
Write a set of interview questions. What is it that you need to know to write a detailed procedure?
Conduct the interviews and document the results.
Create a flowchart that depicts the input to the process, the work steps, and the output.
Review the flowcharts that you have created with the process owners for accuracy.
Write a Draft Manual
Choose a format for the manual and ensure that management agrees with that format. Outline the entire manual. You do not want to rewrite the manual because there is not agreement on the format or content. Use a 3-ring binder so that changes and updates can be made easily. Include the following for each procedure documented:
Title
Introduction
Overview
Revision date
Procedure owner - Use titles as appropriate and avoid using personal names
Flowchart with step-by-step descriptions
Definitions
Materials or software used in the procedure
Illustrations, tables, charts, and graphics as appropriate
Review and Edit
Have the manual reviewed by the responsible management team, the procedure owner, and the customer of the procedure. If the customer is external to the organization, be sure to have management approval before requesting a review.
You may want someone other than the author to go through each step in the process to test its accuracy and completeness. If there are legal constraints, make sure that your internal legal organization reviews the manual for compliance.
Analyze and correct any deficiencies found during the review process, and write the final version. Get final approval signatures at the appropriate level before publishing the document.
Appoint a single owner of the manual who is responsible for documenting updates.
References
"Instant-Answer Guide to Business Writing;" Deborah Dumaine; 2003
Photo Credits
Photos.com/AbleStock.com/Getty Images
Cite this Article
Choose Citation Style
McAdams, Nora. "How to Write Administrative Office Procedures." Bizfluent, https://bizfluent.com/how-5770580-write-administrative-office-procedures.html. 26 September 2017.
McAdams, Nora. (2017, September 26). How to Write Administrative Office Procedures. Bizfluent. Retrieved from https://bizfluent.com/how-5770580-write-administrative-office-procedures.html
McAdams, Nora. "How to Write Administrative Office Procedures" last modified September 26, 2017. https://bizfluent.com/how-5770580-write-administrative-office-procedures.html
Note: Depending on which text editor you're pasting into, you might have to add the italics to the site name.