How to Solve Workplace Problems
by Contributor; Updated September 26, 2017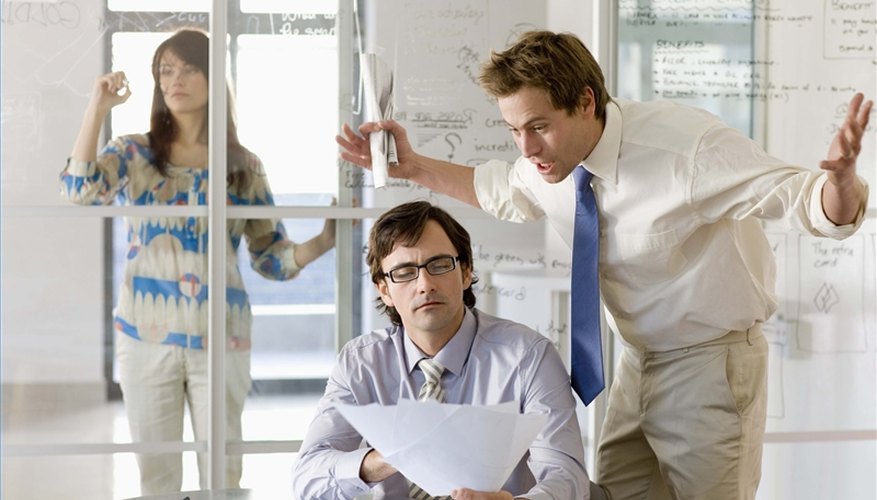 How to Solve Workplace Problems. Lack of communication between employees is usually the cause of many workplace problems. This may mean there is a lack of communication between supervisors and employees, among employees or between employees and the customers. No matter what the cause of the problems in the workplace, these steps will help you solve them.
Step 1
Understand that when people in the workplace communicate with each other, they need to make sure that the other person understands what they are hearing. This way, nobody will be able to say, "Oh, I misunderstood" or "Well, no one told me that." When interacting with others, it is often helpful to repeat the key points that you want them to remember.
Step 2
Remember that everyone should always be direct and truthful. Don't imply or exaggerate anything you say; instead be respectful, truthful and direct so that you aren't misunderstood.
Step 3
Have company meetings during which everyone discusses the points made in Steps 1 and 2. The first part of solving workplace problems is prevention--eliminate problems before they begin. Designate a supervisor or supervisors who are responsible for helping people solve problems in the workplace. Next, make it clear that at any time an employee is having a problem, they can visit with these people for help.
Step 4
Solve problems among employees when they arise. First, identify the problem and the facts surrounding it. Second, identify the size and importance of the problem. This might be something with an easy solution. On the other hand, it may be a recurring problem that needs quite a bit of time and attention to solve.
Step 5
Identify the best way to solve the problem. Discuss acceptable solutions to the problems and decide which one is the best. Next, determine the actions needed to reach that solution. You may need to have further meetings, mediation between employees or, in extreme situations, legal action.
Tips
Meet with all parties involved in a problem soon after they have attempted to find the solution. Clarify that they are satisfied with the results and that the problem was solved.
Warnings
Don't get angry or confrontational when you are trying to solve a problem in the workplace. Staying calm is always more productive and effective.