How Many Stamps Should Be Put on a Manila Envelope?
by Lindsey Thompson; Updated September 26, 2017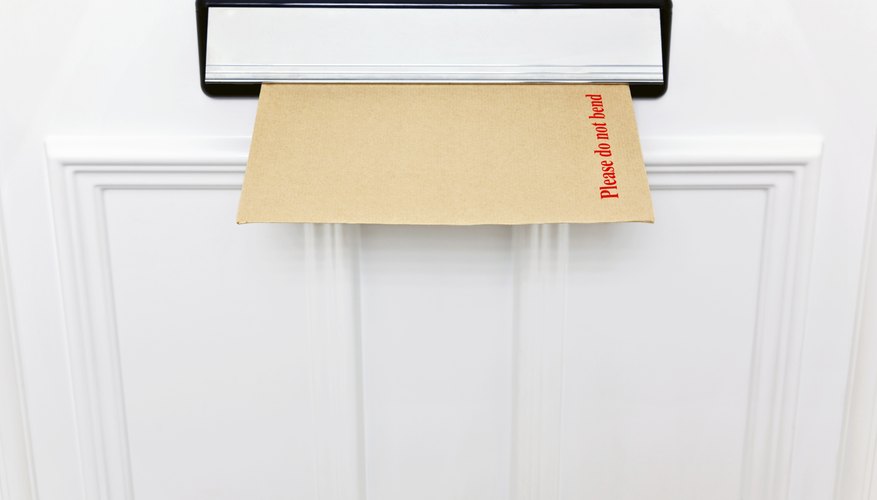 Because of its larger size and weight, a manila envelope requires more than the one stamp a typical letter takes to mail. The exact number of stamps needed for a manila envelope varies depending on the exact size and weight. The United States Postal Service website at usps.com guides you through the process of determining how many stamps you'll need.
Size and Weight Restrictions
For first-class mail, the manila envelope can be up to 11 1/2 to 15 inches long and have a height of 6 1/8 to 12 inches. The envelope should be no thicker than ¾ of an inch. The USPS considers any manila envelopes that exceed any of those dimensions as parcels. Additionally, any manila envelopes that are rigid or not uniformly thick are charged parcel prices.
Postage Calculator
The price also varies depending on where you are mailing the envelope. The farther the distance, the higher the postage. The USPS website features a postal price calculator that helps you determine the exact postage needed based on the size and weight of your envelope, as well as where the envelope is going. Enter all the required information and the website calculates your postage and also provides an option to purchase the stamp online.
Postage Needed
As of 2015, the price to mail a manila envelope first-class starts at 98 cents for a one-ounce envelope and goes up 21 cents per ounce, up to 13 ounces. The USPS considers envelopes over 13 ounces as parcels. International prices start at $2.29 for a one-ounce package. You can use several first-class stamps that equal the postage you need for the weight of your envelope or purchase a label with the prepaid postage.
Photo Credits
RTimages/iStock/Getty Images