Six Sigma is valuable because it creates an environment for improving productivity and efficiency in a business environment of continuous improvement. It gives everyone an opportunity to make improvements to traditional processes. It creates a disciplined, knowledge-based approach designed to enhance customer satisfaction and build a customer culture that embraces innovative approaches to technology and business development. Overall, it is a highly structured strategy for acquiring, assessing and applying customer expectations with manageable solutions for the purposes of product, system or enterprise innovation and design.
Process Mapping
Six Sigma utilizes process mapping or what is commonly described as flowcharting to document the current process or the steps within a system used to produce a product or service. This information includes all of the decision points and employee roles in performing the work required to meet a particular customer's needs. These flowcharts are then used to come up with a future state of a particular process including improvement suggestions.
Eliminating Waste and Variation
Once improvement ideas have been identified, projects can be assigned for eliminating waste and variation in processes and standards with a company's division of business. Waste can be categorized as anything that does not help to produce the product or service expected to be delivered to the customer. Once standards and processes have been implemented, the work required for the target goals of the business will become more predictable with less variation in customer delivery times.
Defect Reduction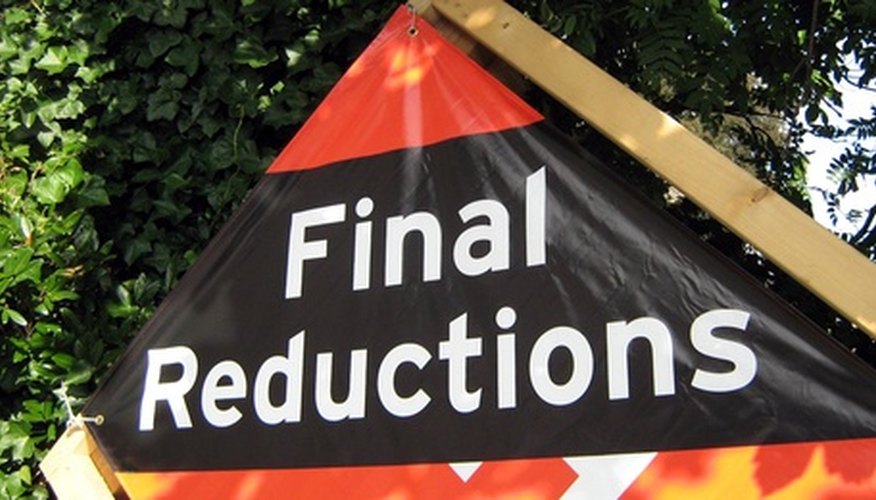 sign. final reductions sign image by L. Shat from
Fotolia.com
Six Sigma helps employees to recognize problem areas and reoccurring issues that affect the customer expectations for the quality of a product or service. For example, if a product failure is because of a faulty system that has been identified, then Six Sigma principles will allow the employee to implement solutions based on the root causes discovered through troubleshooting.
Continuous Improvement Environment
Employees who are trained in Six Sigma processes are able to identify problem areas that slow down production or the ability to perform assigned tasks. Employees are able to visualize how processes are currently being completed and identify improvement ideas continuously. Continuous improvement helps to improve existing products and processes, develop new products and processes that ultimately provide financial savings through improved efficiency and effectiveness.
Ongoing Training
Six Sigma offers several levels of training for qualified experts to improve their knowledge base of Six Sigma best practices and principles.
The Master Black Belt--described as a mentor, trainer and coach of Black Belts and others in the organization.
The Black Belt--described as leader of teams implementing the Six Sigma methodology on projects.
The Green Belt--person who delivers successful focused projects using the Six Sigma methodology and tools.
References
Resources